Compared to running, biking, walking, and other exercises requiring you to stay in one place, a workout mat is becoming a necessity. But what kind of mat do you need? Is it an exercise mat or a yoga mat?
Are yoga and exercise mats the same? These two mats are sometimes interchangeable in use. But they have differences worth noting. One of the distinctions among the two is the thickness. And there are more!
Although these mats have something in common (we will tell you about that later), it is better to understand how they differ.
These mats can be used at home (especially during a pandemic) or anywhere there is a flat surface. So, if you are wondering the difference between exercise mats vs. yoga mats, we will tell you everything about them! Keep on reading, yogis!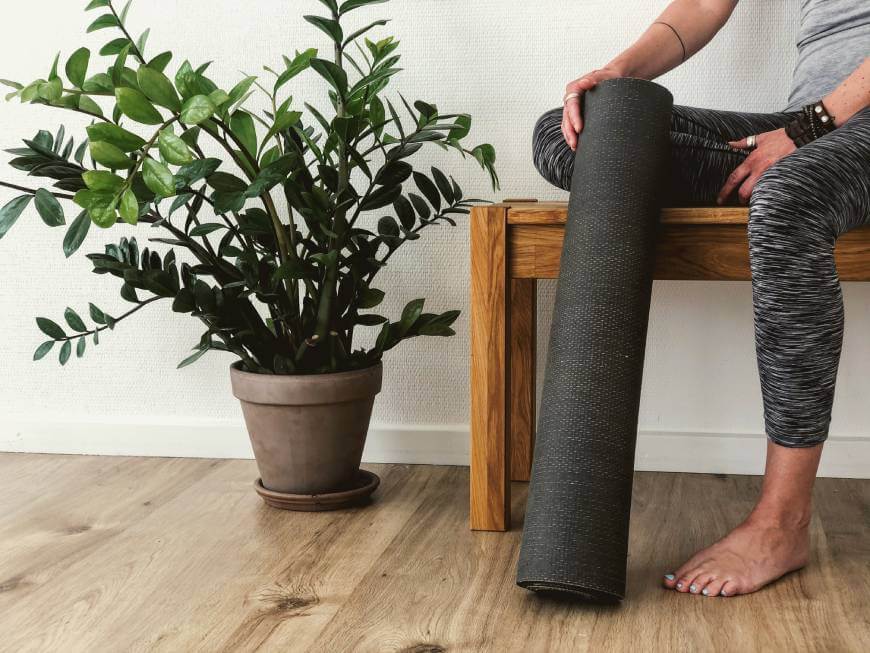 What is a Yoga Mat?
Yoga mats come thinner than other workout mats. Yoga mats are leaner because they are designed especially for low-impact floor exercises. The mat usually comes with a ¼ to 1-inch thickness and can be in the middle of the firmness scale.
But why does the yoga mat have to be that thin? You see, the yoga exercise is a systematic practice of not-so-intense physical movement, breath control, meditation, and relaxation. The action entails low-impact physical move, pose (known as asana), breathing techniques (pranayama), and other meditating poses.
So, you need a stable and non-slippery surface to do the different postures without pain. The thin cushioning of a yoga mat provides more stability while you do different poses. Additionally, the slimmer yoga mat enhances your grip to prevent untoward injuries and maximize body balancing.
Read more: How To Store Yoga Mats The Right Way
What is an Exercise Mat?
The exercise mats (also known as gym mats or general fitness mats) are for diversified floor exercises and activities. The mats are also for body-weight exercises. These mats come thicker and larger than yoga mats.
The gym mats have a thickness ranging from 1 to 3 inches. The thicker mats provide you with extra cushioning when doing high-impact workouts.
Some high-impact workouts include crunches, martial arts training, gymnastics, Plyometric exercises, and other body-weight training.
The thicker exercise mats are for those who do not want to be closer to the floor when doing exercises. The extensive size of the gym mats offers better absorption of the shocks from jumping, slipping, rolling, and falling when doing heavy routines.
What Are the Differences Between A Yoga Mat And An Exercise Mat?
Their similarities are also worth knowing, right?
Are you still confused about the differences between a yoga mat and an exercise mat? But what if we talk about the similarities between the two sheets first? And what are the roles played by mats when doing floor exercises?
As we have told you before, workout mats act as a cushion between your body and the floor. A mat is also useable on any flat surface like grass, soil, sand (like on the beach), and other natural worktops. That is when you are caught outdoors and you need to stretch those muscles or meditate amidst nature!
Both mats can be brought or used outdoors. However, an exercise mat is heavier. Also, always remember to lay these mats on dry and flat surfaces. We go now to the differences between these mats.
Yoga mats tend to be thinner compared to exercise mats. The firmness also differs between the two mats. The exercise mat is firmer. A yoga mat has a non-slip surface to keep yogis out of harm's way while doing yoga poses in place.
On the other hand, exercise mats are thicker and more extensive than yoga mats. The size and thickness of a gym mat must conform to the heaviness of the floor exercise a user will do. Below is a comparison Table on the difference between a yoga mat and an exercise mat.
In the table below, you can easily spot the distinctions between a yoga mat and an exercise mat. Here goes!
| | | |
| --- | --- | --- |
| Variables | Exercise Mat | Yoga Mat |
| Thickness range | ¼ to 1 inch | 1 to 3 inches |
| Weight/portability | Light | Heavy |
| Applications | Yoga sessions, low-impact exercises | High impact exercises, gym sessions, other body-weight workouts |
| Materials | Cork, Polyurethane, Natural/Synthetic rubber, PVC, EVA foam, TPE, Jute, Cotton hemp, etc. | Natural or synthetic rubber, EVA foam, PVC, high-density polyethylene, TPE, etc. |
| Protection | High level of protection & cushion on the body, protection from jumping, rolling & falling, etc. | Enough cushion for the body with connection to the floor/surface |
| Support | Supports the body & floor against heavier weights | Supports the joints and other body parts |
Read More: 15 Best Yoga Pants For Tall Ladies.
What Is The Best Exercise Mat To Use?
Maybe the most appropriate answer to this question is also a question: what kind of exercise do you want to pursue? The decision on what the best mat to use falls into your preference. If you want a light impact exercise, the yoga mat will suit your needs.
However, if you think you are overweight and need to trim those fats, a high-impact exercise is what you need. In this case, the exercise mat is highly recommended for you.
Moreover, if you are an overweight person planning to do both low- and high-impact exercises, having two mats is appropriate.
There are cheap but quality yoga and exercise mats you can buy online (like the BalanceFrom GoYoga Yoga mat and the BalanceFrom 2″ Thick Tri-Fold Folding Exercise Mat).
Do Yoga Mats Supposed To Stretch?
Yoga mats are not supposed to stretch because you may slip or be out of balance while doing a routine while standing. A yoga mat that stretches is quite cumbersome and annoying while doing meditation. It can even distract your concentration in the middle of a stretching pose.
But what makes a yoga mat stretch out? It could be because your yoga mat is quite old. Meaning, the mat has worn out because of age and frequent use. It may also be because you store the mat dirty or unclean that shortens its life.
One other reason why yoga mats stretch out early is because of inferior materials. Poor materials may impact the performance of your yoga mat. The age, poor maintenance, and substandard materials contribute much to stretching the mat.
Some of the best yoga materials that last longer, with proper care, are rubber, cork, and PVC. However, when the mat becomes too stretchy, we suggest that you replace it.
FAQ's
1. Can you use a yoga mat as a workout mat?
Yes! You can use a yoga mat as a workout mat. But there is a hitch! You can do only light exercises that do not require a lot of jolting, jumping, and other bouncing effects. The thinner yoga mat may not protect your sensitive body parts, like the elbow and knees, when you bend them abruptly.
Some of the exercises you can do using a yoga mat are pushups, bear crawls, forearm plank, and the likes. If you want to pursue yoga, it is better that you choose the right size of mat for your weight and height.
2. Which mat is best for exercise?
Some of the best mats for exercise are from brands that more workout enthusiasts are utilizing at home, especially during this pandemic. The notable brands include Gorilla Mats, BalanceFrom, and Manduka Mats. Moreover, one of the best exercise mats for planks is the Impulse Fitness Knee Mat – Extra Thick.
3. How thick should an exercise mat be?
Like we have stated above, pick the right thickness of your mat depending on your built and height. If you are a medium-built individual, the best yoga mat thickness for you is ½-inch. On this thickness, you can do poses like asana while you are provided with an adequate cushion.
However, when doing a high-impact workout, it is better that you opt for a thickness within or above 1-inch. With a thicker exercise mat, there are diverse training routines that you can do.
4. Is it worth getting an exercise mat?
If you are serious about your exercise, a ready-to-use and portable mat is a great option when doing floor-based workouts. When at home: an exercise mat on standby could spell so much traction in doing various moves.
Conclusion
So, there you go! You have been informed of the differences between exercise mats vs. yoga mats. So did their resemblance! But come to think of it: you can now decide what to use depending on your needs!
We also congratulate you for knowing the significance of exercise, whether you are meditating or stretching out for the better!
Read more: 20 Yoga Mat Alternatives To Diversify Your Yoga Practice