Nowadays, wearing leggings has become the most preferred fashion for women. Likewise, they are ideal for a casual day out, whenever you're on the go or working out. But, the question is, "how to keep leggings from rolling down"?
One of the frustrating experiences that you may encounter is when your leggings keep falling. Undeniably, the entire experience of having to pull up your yoga pants is inconvenient and makes you feel uncomfortable.
Luckily, such a problem is not seriously troubling. The good news is that there are quick fixes to enjoy wearing your leggings even more.
In this post, we'd like to share with you the way to keep your tights from falling down. Hopefully, the tips and tricks below can help you make the most out of your yoga pants.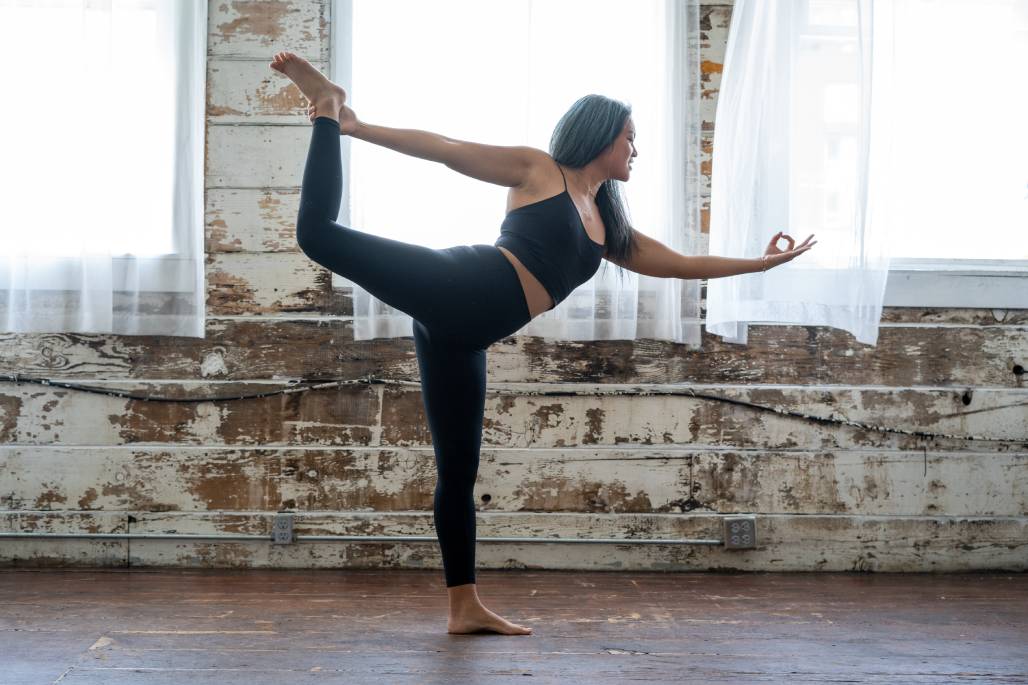 Why Do Leggings Roll Down?
Undeniably, it's pretty frustrating when your yoga pants keep rolling down. Since leggings are designed as tight-fitting, women wear a tight-fitting top for more support. But, this is a temporary solution, and eventually, the leggings will slide down again.
There are plenty of reasons why tights roll down when you're wearing them. Let's uncover the most typical queries for this problem.
1. Is The Fabric Relatively Light?
If the fabric used for the leggings is lightweight, it will generally roll down. That said, pick a fabric that's not relatively thin and not prone to overstretching. Go for fabrics that have some opacity and leggings with a thicker waistband.
2. Are you wearing undergarment?
If you wear underwear with yoga pants, this will cause the leggings to roll down even more. So, it's best to wear seamless panty if you prefer more coverage and comfort.
3. Is the waistband pretty loose?
Leggings that have loose waistbands are more prone to rolling down more. Consider going for yoga pants that have a suitable waistband to hold the leggings well.
In line with this, there might be a few reasons why your pair of leggings rolls down.
A few of the most common reasons are:
The fabric the tights are made of is of poor quality.
You've probably picked the wrong size of leggings, so the tights are pretty big for your size.
You might have shed weight after lots of workouts.
The elastic waistband's performance has stretched or worn out due to rugged or regular use.
You find it challenging to look for suitable and perfect tights for your body frame.
You're not following the correct instructions when washing your tights. Washing your yoga pants the wrong way shortens their usefulness and makes them shrink. This also damages the fabric and the elasticity of your leggings.
Would you like to read more about keeping your leggings from sliding, falling, or rolling down? This page is worth reading.
How To Keep Your Tights From Rolling Down?
Here are some tips and tricks for perfection:
1. Wear high waist legging.
Fortunately, there are many leggings options available in physical and online stores that you can select from. High waist leggings are not prone to slipping or rolling down, so they're better alternatives. Meanwhile, choose trousers at waist level if you prefer a more excellent option for regular tights.
2. Get the correct fit.
It is vital to ensure that the pair of leggings you buy ideally fits you. Nevertheless, if it constantly slips or rolls down, try a pair that is manufactured with a different material. Or, you may consider sizing the leggings up or down.
Generally speaking, when you constantly pull your tights back up; this means it's too big for you. Get a pair of leggings that fit nicely over the heel of your foot. The tights should not hitch up or loose when you walk.
Leggings that are too big won't stay up; on the other hand, small ones will be uncomfortably tight. Hence, this leads to incorrect fit and needs constant pull up. Leggings that are too tight can limit your movements in different activities.
Leggings that are too small will constantly roll on your booty or hips. Moreover, they will ride up whenever you walk, so you'll need to tug them back into place.
Read more: How To Hem Leggings? Here Are The Cues To Get Started
3. Choose compression fabrics.
Such a type of fabric holds in your tummy bulge. This makes them a better choice if you worry about things becoming low and loose. It's essential to remain in compression mode for an extended period to keep your tights from drooping.
The potential problems here are tightness, and they get even tighter whenever you bend over. Anyhow, you only have to solve the tightness problem if you won't bend over. Leggings designed for compression are good options if you prefer your tights to remain tight under any situation.
Spandex blends are excellent choices because they're not prone to stretching out as fast as cotton blends. A pocket of lower back fat will occur after rigorous activity if you don't keep your leggings tight.
4. Wearing a belt is a foolproof idea.
Most women prefer wearing leggings because they make you look more toned up and slimmer. This is probably why your pair of leggings is labeled as magic garments. Regardless, it isn't enjoyable if your tights keep slipping or rolling down whenever you move.
A practical and trendy way of solving this issue is wearing a belt to hold your tights in place. Sure thing, a matching belt will create a significant effect while preventing your tights from rolling.
5. Top-seamed waistbands are great options.
Leggings are all manufactured differently. There's no sense in worrying about your tights slipping or rolling down. They are made to remain in place with top-seamed waistbands.
It's better to avoid buying leggings from less expensive brands. Go for trusted brands like Victoria's Secret, Calvin Klein, and Lorna Jane- they manufacture and sell the best garments.
6. Carefully check the fabric.
Different fabrics require different care needs. Jersey knit, or cotton fabric will shrink if you put them in a dryer. This is why you should be careful about your leggings' washing instructions.
Go for a pair of leggings designed primarily for an active lifestyle to allow you to move freely and comfortably. The material and shape utilized in athletic wear allow you to enjoy more style and comfort. And, similar to any fabric, the stretch makes the yoga pants ride up.
Please note that for tights that utilize this fabric, ensure that you don't put them in a dryer. Otherwise, this will damage the elasticity of your tights. Also, do this for any fabric that's not 100 percent cotton blend or cotton.
7. Wash your leggings the correct way.
Washing your leggings and jeans with a higher temperature will cause them to shrink. Likewise, it will damage the material, and the color will wear out.
To inhibit this from occurring, wash your tights on a cool cycle and utilize a washing bag. This technique is ideal for keeping your tights from tangling up in stuff.
8. Go for elastic waistband leggings.
While elastic waistband leggings aren't always easy to find, they are worthwhile investments. Such type of leggings is adept at staying in place for it is purposely for fitting snugly on your waist.
What's more, if you're pregnant, you can adjust the waistband as you get bigger throughout your pregnancy.
9. Waistband that comes with drawstrings is a practical option.
Mothers and mothers-to-be commonly find it hard to look for leggings that could provide more comfort. When pregnant, constantly pulling up your leggings when they roll down is impossible for you.
Unfortunately, there are only a few options that have a drawstring band. This is because of the discomfort that most people encounter with tights designed with a drawstring band. However, a few people find it practical to adjust the drawstring when their size changes.
10. Wear your leggings like Superman.
The best way to keep leggings from falling down is to find the correct fit and material. You also have to pay attention to the perfect rise and opt for one with a high waistband.
Indeed, after a series of few tries, you will eventually find the perfect leggings that offer optimal comfort and style.
Please watch
for more info about keeping your leggings from slipping, falling or rolling down.
The Bottom Line
Ultimately, leggings that constantly slip, fall, or roll down can be a problem to many women. Fortunately, there are surefire tips and tricks that you can try to solve these concerns right away.
Ensure that you pay attention to the size, fabric, and washing instructions of the leggings before buying. Hopefully, you found the guides we shared about how to keep leggings from rolling down helpful for your concerns.
Read more: What To Wear Under Workout Leggings: Try These Useful Tips