Practicing yoga has become an everyday life throughout the world, especially during this time of a pandemic. Practitioners do it inside and even outside of their homes using a Lululemon yoga mat.
A yoga mat is a clever investment because you can bring it anywhere! Whether you do yoga sessions in the comfort of home, in the park, and the studio or gym: a yoga mat becomes a necessity.
A yoga mat cushions the body against a rough surface. It also strengthens the posture of yogis, prevents the hand and feet from slipping when doing asana, and other poses. In other words, the mat takes most of the beatings!
It is also more prone to dirt, body oil, and bacteria (due to the accumulation of sweat). We will show you how to clean a Lululemon yoga mat, so you can keep your body healthy and hygienic!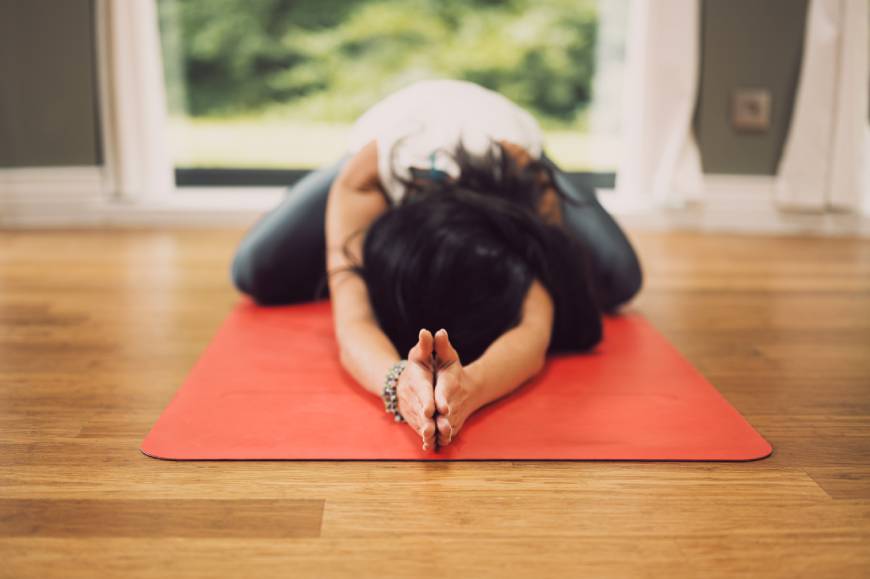 What Are Lululemon Yoga Mats Made Of?
Lululemon yoga mats are a product of craftsmanship distinct to Lululemon. The durability and soundness of every Lululemon mat make it one of the most sought-after brands in the yoga world.
The mat has two materials that slow down the build-up of molds and bacteria, especially when you sweat heavily during a session. The Lululemon mat has natural fiber or rubber on one side and polyurethane on the other.
The soft polyurethane coat helps in absorbing sweat and aids in cushioning your body. On the other hand, the natural fiber or rubber provides a firm grip, so you will not slip even when sweating.
Why Cleaning Your Yoga Mat Regularly Is Necessary?
Yoga exercises are physical activities that may enhance body sweat and oil. The sweat breaks down the protein molecules on a person's skin that carry the bacteria from the body. The sweat is carried to the mat when your skin touches the mat surface.
The sweat and body oil deposited on the mat's surface may develop into molds and bacteria. You should clean your mat after every use to stop the bacteria from developing on the mat's surface. However, there are more crucial reasons why you should clean your yoga mat regularly. Here are they!
1. Cleaning your yoga mat will prolong its life.
Regularly cleaning your mat will prolong its shelf life. It is because the germs, fungus, and bacteria that might lurk into the mat will not multiply. The mat will always look new and fresh!
2. Regular cleaning prevents hard deep cleaning
Although Lululemon yoga mat materials have anti-bacterial properties, it needs frequent cleaning to prevent the accumulation of dirt and stains. Regular cleaning also avoids deep cleaning when the dirt thickens over time.
3. Your fellow yogis will not enjoy a stinking yoga mat.
A yoga mat may produce an unpleasant odor over time when not cleaned regularly. Your yoga buddies will not enjoy the stinking smell.
A clean yoga mat will keep your feet away from infections like athlete's foot, plantar warts, and ringworm, among others. A clean yoga mat promotes better hygiene that will also protect your hands and face from contamination.
5. Maintain an efficient cleaning habit
We should have an organized plan in our daily lives. It is quite the same in cleaning your yoga mat consistently. Practice a coherent cleaning habit in cleaning your yoga mat after every session. Your mind and body will recognize it as a necessity over time.
Various Ways of Cleaning Lululemon Yoga Mats
There are varied ways of cleaning Lululemon yoga mats. Here are the different ways on how to clean your Lululemon yoga mat at home.
1. Cleaning using essential oils
Essential oils have a pleasant smell that most people appreciate. But do you know that these oils have anti-bacterial and anti-fungal properties? The most widely used essential oils are tea tree oil and lavender oil (which provides a nice smell).
But you can use other oils that you prefer, like those of lemongrass, peppermint, and eucalyptus. Here are the steps in cleaning your yoga mat using lavender and tea tree oils.
Items needed:
Water, lavender, tea tree oils, vinegar or witch hazel oil, and a spray bottle.
Instructions/steps:
Step 1: Put 60 to 120ml (2-4 ounces) of water into the spray bottle. Add two drops each of lavender and tea tree oils. Shake the mixture thoroughly.
Step 2: Add a teaspoon of vinegar or ¼ cup of witch hazel. Shake again to mix well.
Step 3: If the mixture is ready, spray it in a fine mist into the back and front sides of the yoga mat. Once you have sprayed all sides of the mat, hang it to air dry. Do not wipe the liquid; let it dry slowly before storing the yoga mat in a clean place.
2. Using baking soda and lemon
Baking soda is one of the safest chemicals in cleaning yoga mats. Partner it with lemon to have a pleasant smell and add up in killing the bacteria.
Items needed:
A cup of water, a teaspoon of baking soda, a lemon, and a clean cotton cloth.
Instructions/steps:
Step 1: Mix the water, baking soda, and lemon in a bowl.
Step 2: Once the ingredients are well-mixed, dip the clean cotton cloth into the mixture and scrub the mat gently. Ensure that you scrub both sides of the mat.
Step 3: After scrubbing, let it sit for about five minutes.
Step 4: After five minutes, wash the mat in running water or lukewarm water and air dry it.
3. Using ready-made cleaning solutions
If your mat has spills like blood, cosmetics, and other stubborn stains, better to use ready-made cleaning solutions. But before you start using the solutions: ensure that the mat is clean already, so you do not have to struggle cleaning those stains.
Items needed:
1 teaspoon of dishwashing soap, sponge, water, and a 1-liter spray bottle.
Instructions/steps:
Step 1: Mix the water and the dishwashing soap in the spray bottle.
Step 2: Once the ingredients are mix thoroughly, spray the content into the mat.
Step 3: Use the sponge when wiping the stains until they disappear.
Step 4: Rinse the mat using tap water and let it dry by hanging it outside the house.
4. Cleaning With Soap & Water
Cleaning the Lululemon yoga mat at home with soap and water is the cheapest thing to do in deep cleaning the sheet. Here are the things you have to do:
Items needed:
Mild soap, lukewarm water, and washcloth.
Instructions/steps:
Step 1: Give the mat a warm bath with soap and water but ensure that the soap has no conditioner.
Step 2: Soak the mat in the soap and water solution for about 10 minutes.
Step 3: Then, scrub the mat thoroughly with a clean washcloth.
Step 4: Once you see that the mat is clean, rinse the soapy water meticulously and let it air dry.
You May Also Use a Yoga Mat Cleanser
If you have no time to prepare the ingredients for cleaning your Lululemon yoga mat; there are off-the-shelf yoga mat cleaning solutions online. Like the Way of Will Yoga Mat Spray. There are organic or chemical-ready cleansers but pick the one that will not cause allergy to your skin.
But first, you will need the following: ready-made cleaning solution in a spray bottle, clean piece of cloth (or a sponge).
Here is how to do it:
Step 1: Before you clean the mat, ensure that it is dry. Lay the mat on a flat surface (or the floor) without any lump.
Step 2: While lying on the floor, spray the solution all over the surface of the mat. Then, wipe the liquid gently to spread the solution.
Step 3: Reverse the mat and do the same as in Step 2.
Step 4: Once the mat is treated with the yoga mat spray, let it dry.
How Often Should You Clean Your Yoga Mat?
Most yoga experts suggest cleaning your yoga mat before and after every session. The habit will create efficient hygiene maintenance that will benefit you a lot. The mat will also prolong its life when stored clean and tidy.
Some tips to remember:
Do not use excessive force in scrubbing the mat.
Do not use sharp objects, steel wool, and other rough scrubbers when cleaning the mat.
Always dry the mat by hanging it in a well-ventilated space.
Remember that Lululemon mats come in various sizes and thicknesses; pick the one that matches your weight and built.
Read more: 11 Best Yoga Mats Under $50
Conclusion
Now you know that there are various techniques on how to clean a Lululemon yoga mat: you can choose the one that you can reliably do after every session.
However, Lululemon yoga mats are easy to clean. So, you will not have a hard time keeping it pristine all the time!
Read more: 15 Best Yoga Mat For Carpet