A yoga mat is one of the best yoga tool investments. It offers a safe and supportive cushioning to help you do your poses and balances with ease. It prevents slipping when practicing on slippery surfaces and protects you against discomfort when exercising on rough surfaces.
But what if you don't have a yoga mat? Is it possible to complete a yoga session without a yoga mat? If so, what else can you use? Fortunately, a yoga mat is not the only tool that can help you enjoy your yoga session.
There are plenty of cheap and easily accessible things that you can use to practice yoga safely. Most of them are fold effortlessly and you can bring them along during your travels.
Let's find out the yoga mat alternatives below.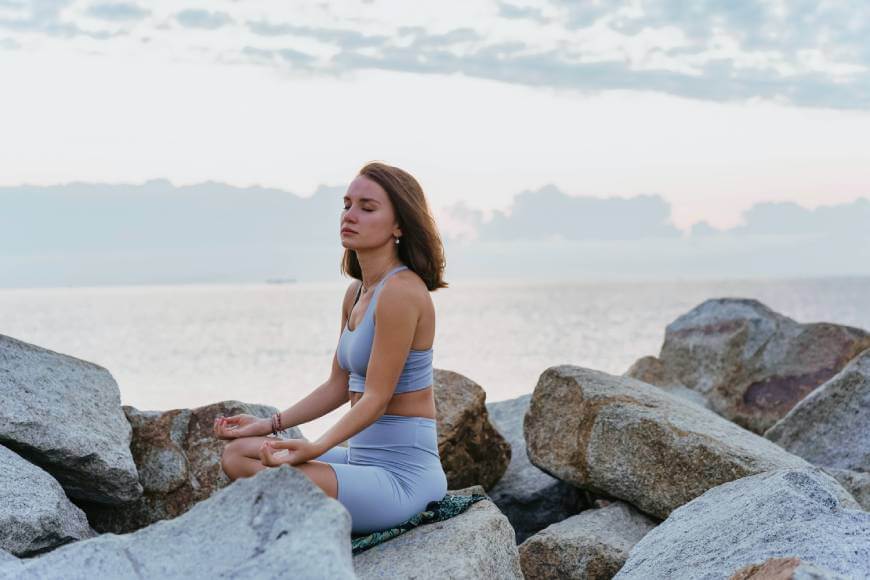 Pros of Using a Yoga Mat
Offers a firm grip
Provides adequate cushioning and support for joints
Offers insulation between body and ground
Anti-slipping
Reduces chances of slipping and injury
Cons of Yoga Mat
Requires regular washing
Poor quality mats can hinder your practice
Limits you from practicing anywhere
Yoga Mat Alternative: Pros and Cons and What to Expect?
For one reason or another, you may find yourself in a situation where you can't use a yoga mat. If you are in such a situation, several alternatives of yoga mats may come in handy.
With yoga mat alternatives, you can use them for the same purpose as a yoga mat to get the right support while exercising. They are more affordable and you don't have to break the bank to get started with your session.
Most of these alternatives also offer better versatility and are highly sustainable. With yoga mats, you need to wash them regularly to prevent bad odor. However, most yoga mat alternatives don't need repeatedly washing. The best part is that you can bring along some of these alternatives in your travels, so your sessions are not restricted.
On the downside, some yoga mat alternatives may not offer the support and stability that yoga mats give. A yoga mat may also appear irreplaceable if you intend to take your yoga exercises to another level. They just serve as temporary solutions and should not replace a yoga mat completely.
Best Yoga Mat Alternatives
Not having a mat should not prevent you from doing what you love most. Grab any of the above and get started.
1. Rolled Up Beach Towel
If you don't have a yoga mat, grab a rolled-up beach towel. It offers plenty of cushioning and comes close to offering the stability that yoga mats offer. It is also very soft without being too slippery.
Like a yoga mat, a rolled-up beach towel is long enough to fit your well even when you lie down. It is also easy to use and works well on hot days.
If you want more stability, consider incorporating a yoga belt. You can also add another towel for extra thickness and to make the towel sweat-resistant.
2. Roll-Up Yoga Towel
As the name may suggest, yoga towels are easy to roll up and can offer enough cushioning when practicing against a hard floor. Yoga towels crafted from microfiber are a portable and lightweight option to bring along when you are traveling.
Besides, they work great for both outdoors and indoor sessions. However, don't hesitate to place a non-slip fabric beneath to lower the chances of slipping. This is crucial to keep in mind because a yoga towel is generally slippery.
3. Fabric
You can find a fabric in the market that you can use on its own for your yoga practice or add it on top of your yoga mat. You just need to find a fabric yoga mat that is almost similar to a yoga mat and offers enough cushion and support.
If you want more traction, woven fabric can be your best alternative. Besides, you can customize the size to fit you well.
4. Your Sleeping Bed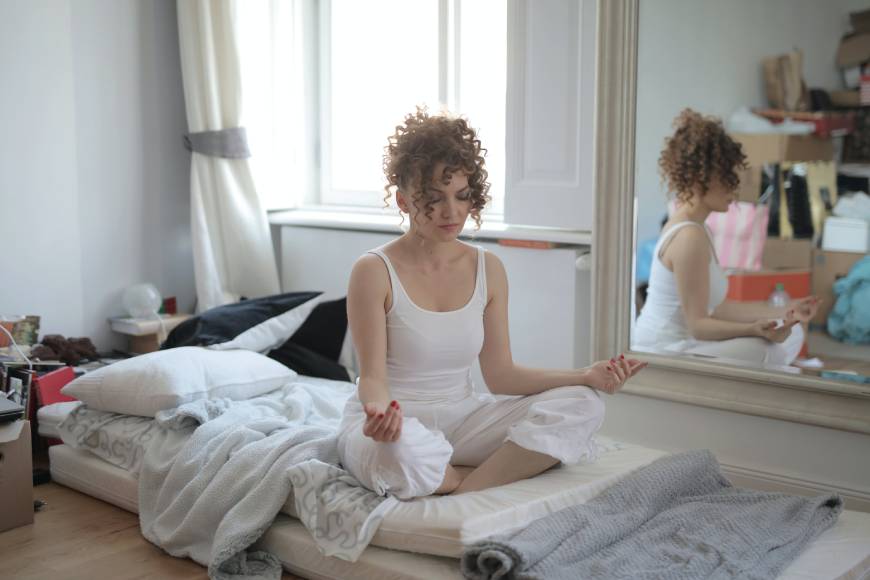 You don't have to leave your bed to begin your yoga session. Yes, the bed surface can act as an alternative to a yoga mat, especially if you are looking for a short-term solution to calm down after a long day or stretch your muscles after sleeping.
Unlike doing yoga on a yoga mat, doing yoga on the bed does not put much pressure on sensitive joints. However, you may not be able to go as far as you would on a yoga mat. Also, the bed may not be quite stable like a floor's surface.
5. Yoga Block
Yoga blocks are usually made from bamboo, foam, cork, or wood and can be used to support the body when doing yoga poses. They help to shorten the distance between you and the surface, making them an excellent yoga mat alternative.
Also, yoga blocks offer extra support and alignment. This makes it an even better choice for people of all ages, any level of yoga, and those with limited flexibility.
6. Yoga Strap
Often mistaken for a resistance band, a yoga strap is used in yoga to stretch different parts of your body to help you attain a wide range of motion. It is used when doing upright poses and certain sitting poses.
If you are a beginner, you may want to replace your yoga mat with a yoga strap to help you learn the poses without putting much strain. It is also washable.
On the downside, it may slip with ease and the metal rings can make annoying noises. Also, it can be difficult to get an effective position because of the stretching.
7. Bolster
Although expensive, a bolster is another impromptu yoga mat replacement that you can consider. It involves folding yoga blankets or binding cushions and pillows in a towel. Bolsters are one of the difficult yoga mat alternatives to make. They are commonly used in restorative yoga asanas.
8. Yoga Chair
Are you in the office or at home with no yoga mat but a chair close hand? Great! You can still do certain yoga sessions on your chair. Chair yoga is excellent for doing seated and balancing poses to keep you stabilized.
This yoga alternative is also a great option for those that cannot practice traditional yoga due to age or health issues. However, it may not be the range of stretch that a yoga mat offers.
9. Wall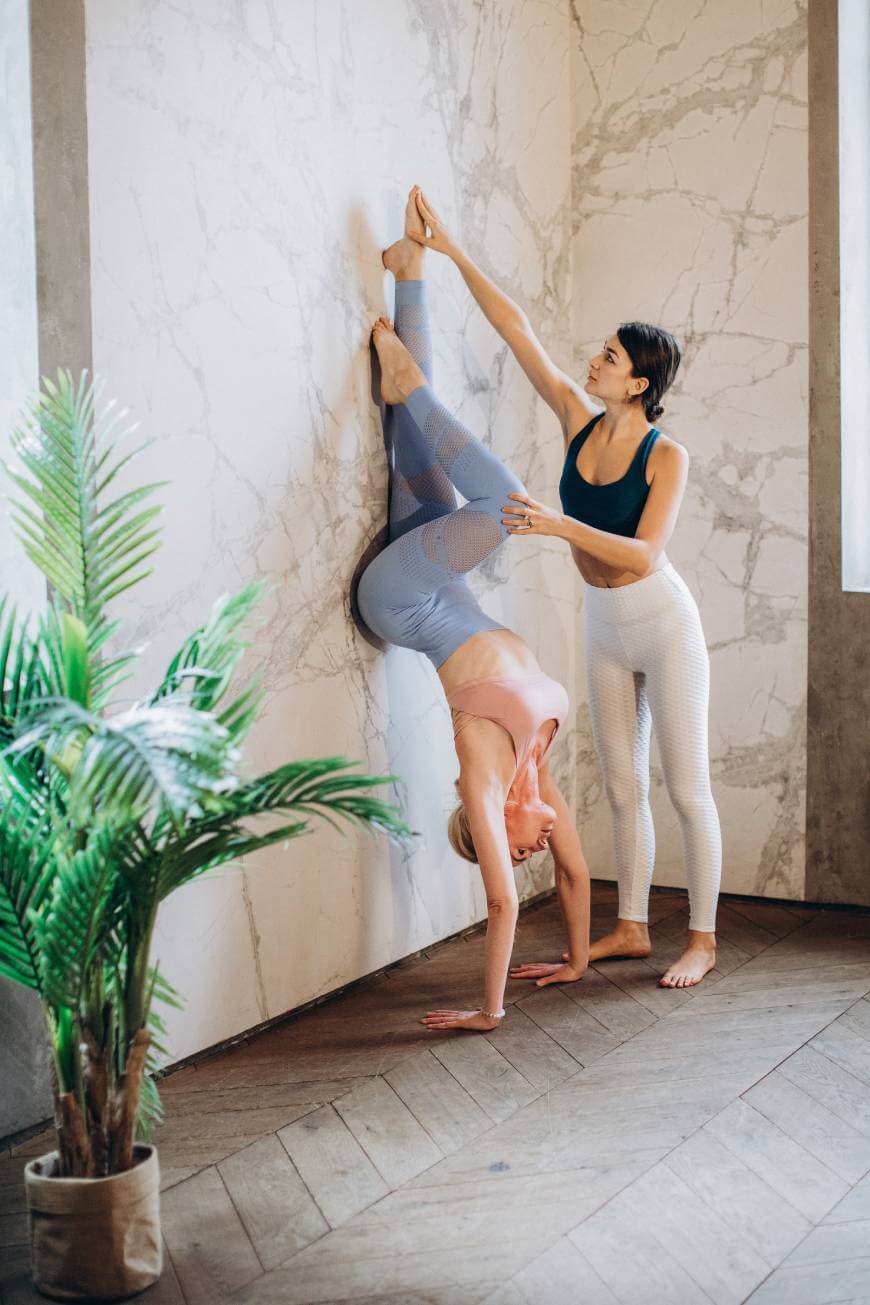 Our list of yoga mat alternatives would not be complete without mentioning wall yoga. Use the wall to support you as you do your poses.
Also, for this yoga practice, you may need to use straps attached to the wall, allowing you to invert your body without putting strain on your neck and head.
10. Woven Blankets
Woven blankets offer plenty of cushioning and support when you are practicing yoga on hardwood floors. A woven blanket is large enough in size and thickness to offer the much-needed support for your elbows, knees, back, and neck.
Furthermore, it is easy to use and folds quickly, and is warm, making it an excellent workout tool for doing relaxation poses. It is highly versatile and can be rolled to provide additional support.
It also allows you to easily transition from doing yoga to meditation. If the blanket is too large, you can use it as-is or simply cut it to fit your size well. You should also be careful as it is likely to slide.
11. Grass Lawns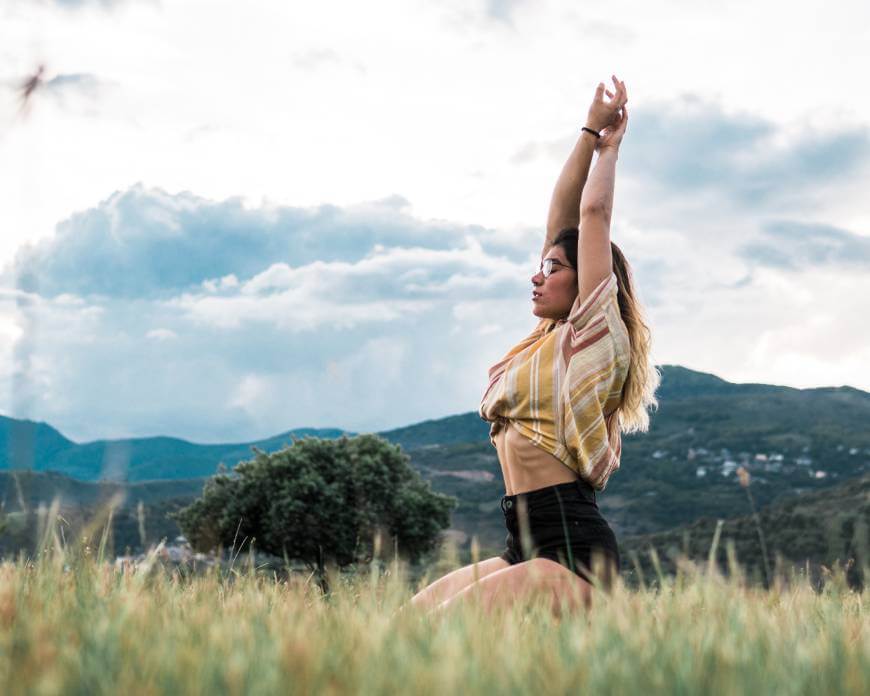 Grassy areas can serve as a substitute for a yoga mat. Whether it is in a nearby park or your own yard, cushiony grass without being too dry can give you an exceptional experience where your body and mind can connect with nature.
It gets fun when there is adequate sunshine, but no damaging UV rays. Practicing barefoot lets you connect with nature more easily. Plus, you can do all the poses as you would on a yoga mat. But practice with caution because the grass can get slippery.
12. The Beach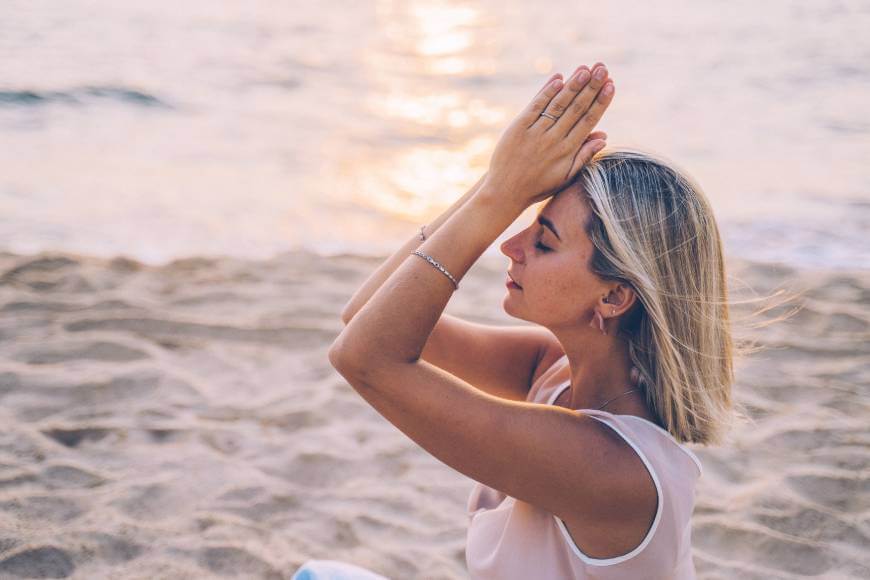 If the fresh air and breathtaking views of the beach mesmerize you, then you should not hesitate to do some poses on your next visit. Doing yoga on a sandy beach does not require a yoga mat.
The sand is soft and will be gentle on your joints. This means that you can do most poses like headstands and tree pose.
13. The Bed and Mattress
If the thought of doing yoga in the comfort of your bed excites, all you need is a good mattress with plenty of backbone support to substitute for your yoga mat. The bed can act as the floor surface to provide you with balance and strengthen your core.
However, the bed and mattress should not be sued when doing standing or balancing poses. Instead, it can function well for poses that require sitting or lying down.
14. Carpet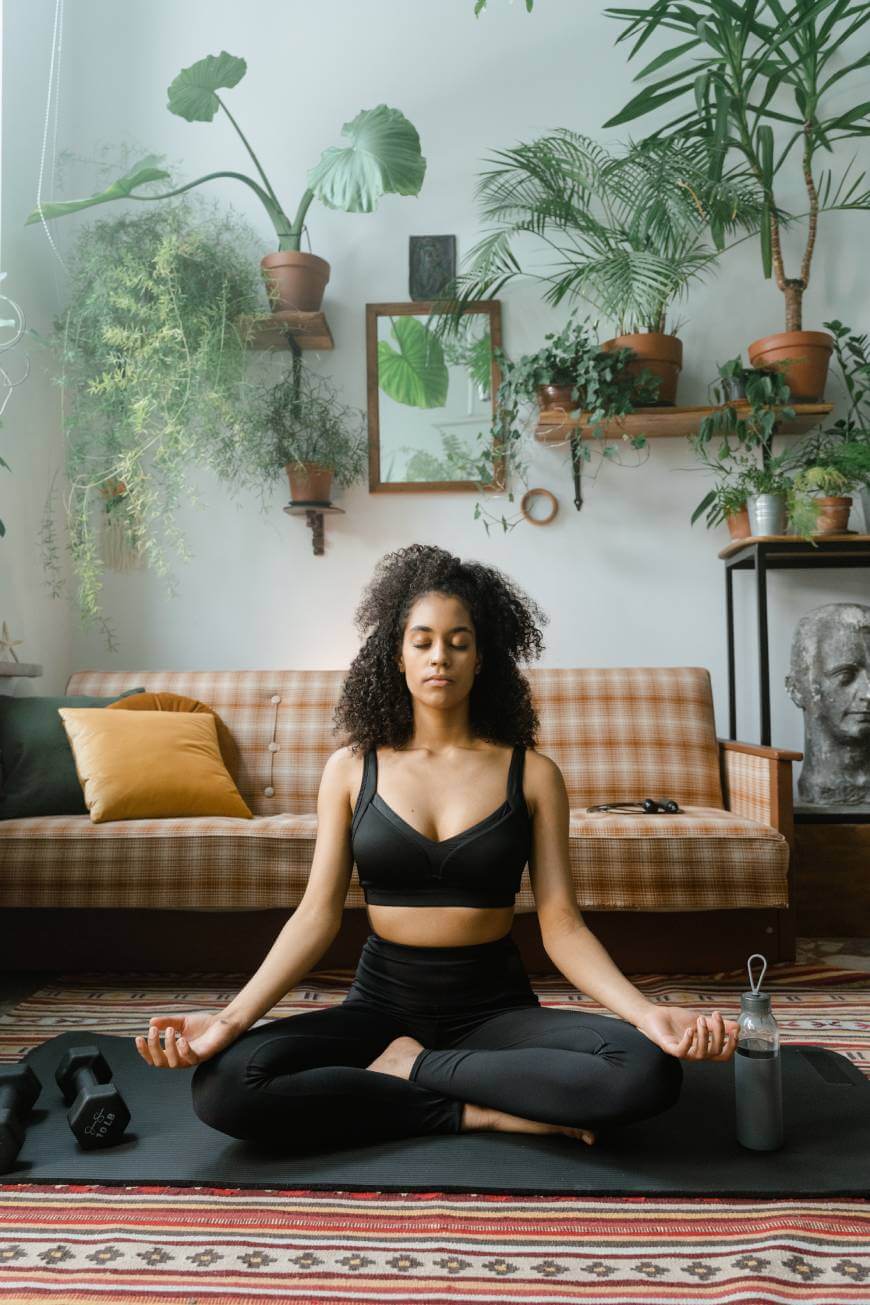 If you intend to do yoga from your home or office, a carpet would be an ideal yoga mat alternative. Carpets of rugs offer plenty of cushioning effect, warmth, and better control to enhance your experience.
However, you must choose the right type of carpet depending on the type of yoga you do. For instance, a low pile carpet is ideal if you do lots of balancing and standing poses while a long pile.
However, a shaggy carpet can offer a lot of comfort for grounding yoga practices that don't involve practicing balancing postures. It is also great for doing fast transitions.
15. Wooden Floor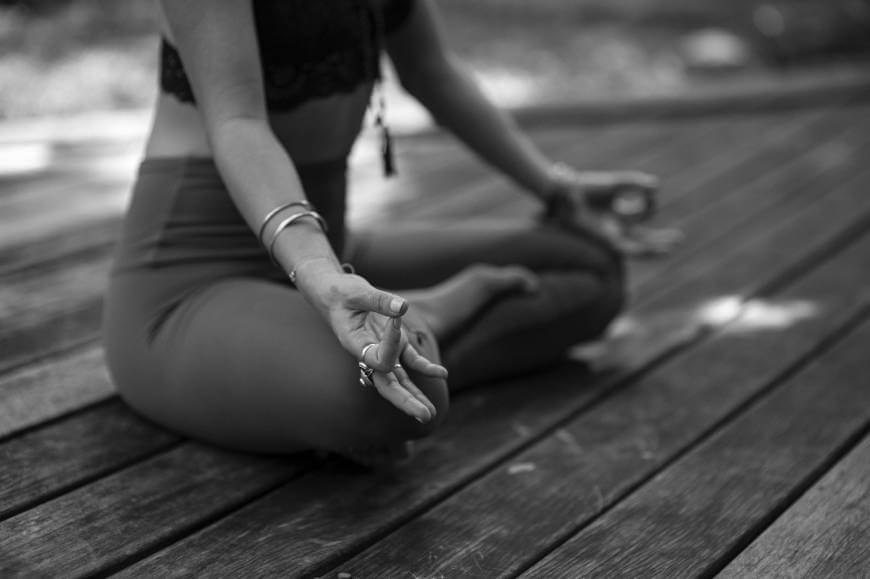 If you are looking to do your yoga sessions and don't have a mat or any other substitute, you can as well do it on the wooden floor. This can work well if you want to do particular standing poses such as Ragdoll, Mountain, and Tree poses.
On the other hand, it is not advisable to do exercises that require key joints like your knees and back to come into contact with the floor. Otherwise, this could result in injury.
16. Grippy Socks
Grippy socks serve the same function as yoga mats of providing you with grip when doing your poses. Grippy socks can offer you better support when doing yoga on slippery areas like marble, hardwood, or tile.
17. Bath Mat
Beyond absorbing moisture in your bathroom, a bath mat can replace your yoga mat to help you in your yoga journey. An advantage of a bath mat is that it offers grip and traction and this means that it will remain in place during your sessions. Consequently, this helps to prevent falling and slipping.
Also, a bath mat as a yoga mat alternative can soak sweat. This will give you an easy time while practicing your exercises.
18. A Big Rock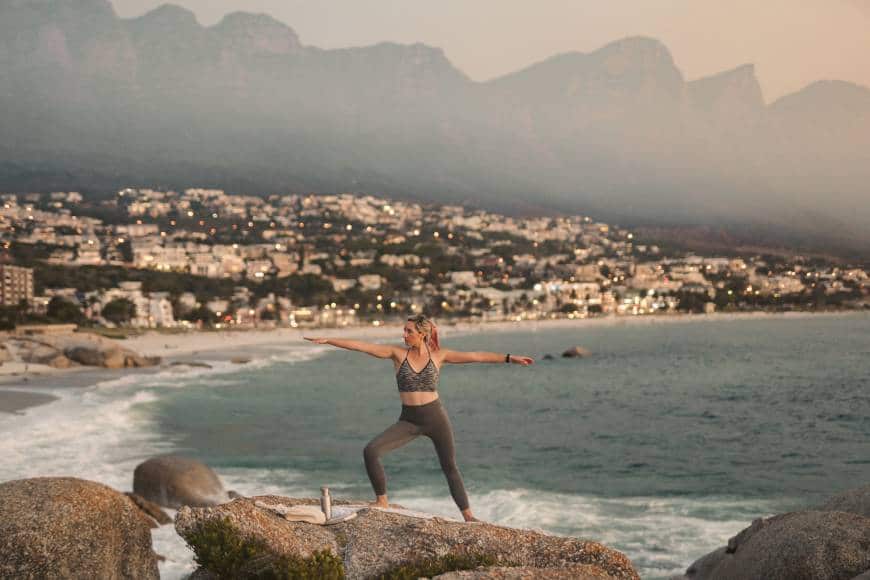 If you enjoy nature and being outdoors, doing yoga on the rocks should be on your bucket list. It is a different experience altogether that does not require a yoga mat. You will get to enjoy a rock-climbing expedition and unwind with yoga at the top of the mountain.
Besides, you can practice yoga by the rivers or lakes, as long as there are rocks.
19. A Quilt
A quilt is not just great for keeping you warm but it can also double up as a yoga mat alternative. However, it is important to customize the quilt to meet your yoga practice requirements.
For instance, make sure that you pick a quilt with the right fabric. Very soft fabric can lead to injuries while a very rough fabric can limit you.
20. Nothing at All
There are situations where you find that you need to practice yoga but you have no yoga tool. In this case, you can still go on with your yoga sessions without anything.
This is because yoga is more about your mind, body, and soul than it is about other things. You can even add more fun by doing yoga poses as a group.
FAQ's
1. Can you do yoga without a yoga mat?
Yes, you can. While a traditional yoga mat helps to give you ample support and comfort while doing yoga, it is not a must to use. You can still practice yoga without a yoga mat, but this will greatly depend on the type of yoga you intend to do.
Also, consider factors such as space, hygiene, and your need for padding.
2. Can I use a towel as a yoga mat?
Yes, your towel can serve as a yoga mat provided it offers the right cushioning and support for key joints. A high-quality, sustainable towel will reduce the blow on your joints, especially if you want to do yoga on the hardwood.
3. Can I do yoga in bed?
Your bed can be an option for doing yoga poses if you want to do seated poses. Of course, this should be an occasional option; otherwise, you may not get the true benefits of yoga.
Conclusion
Having a mat is crucial for your sessions. However, if you don't have one at the moment, you can use any of the above as a temporary solution. Just find one that works best for you and get started on your yoga session.
Read more: 11 Best Meditation Cushion for Back Pain