Which suitable option can ensure adequate pain relief: chirp wheel vs. yoga wheel? Our daily jobs, habits, aging, and active lifestyles make us prone to muscle tension, body pains, and injuries.
It's crucial to select suitable yoga or exercise tools to safely and effectively achieve your fitness goals. However, with lots of yoga and exercise accessories and equipment available today, which of them is worth a shot?
Learning the difference between a chirp wheel and a yoga wheel can help you create an intelligent decision. To help you compare the better option for your needs, we have gathered valuable information below!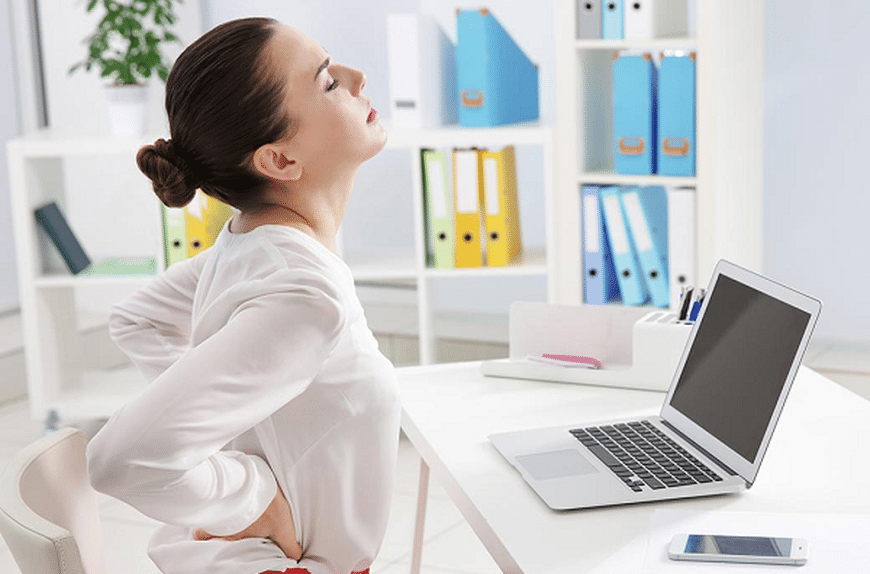 What Is A Chirp Wheel?
A chirp wheel is an excellent exercise tool for people who wish to treat chronic back pains and injuries. It works wonders in improving one's stretching abilities with spinal canal technology.
This medical device applies gentle force on the spine, providing pain relief during the therapy. It also offers several wheels to treat specific areas in your back.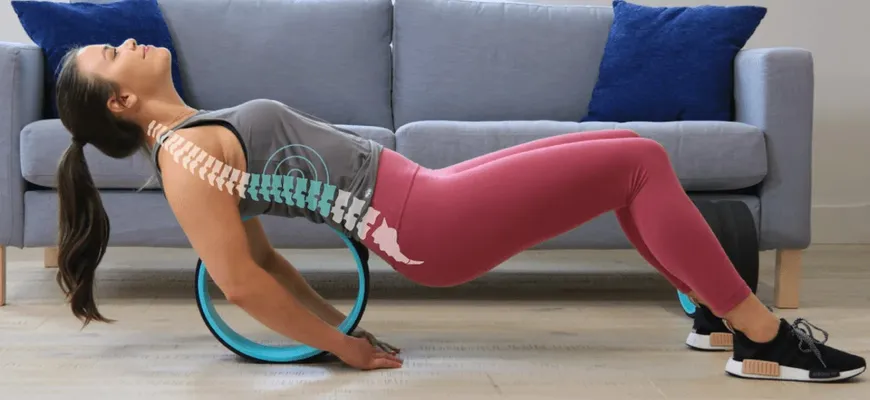 Upsides
Promotes deeper stretches than a yoga wheel
Rigid enough to handle a maximum of 500 lbs.
Features four-way stretch motion with an internal groove to ensure excellent support and comfort surrounding your back and joints.
Made with 20mm padding to prevent pressure when rolling
Highly recommended by physical therapists and chiropractors
Comes in three different sizes for targeted relief and treat back injuries
Offered with a 60-day money-back guarantee program
Downsides
The width of a chirp wheel isn't as broad as a foam roller.
It's only available in one color scheme.
Finding the appropriate balance can be difficult for starters.
Where Did The Chirp Wheel Originate?
Inspired by the yoga wheel, a chirp wheel is an innovation. The manufacturer of this exercise tool launched it on Kickstarter in 2018.
It looks almost identical to a traditional yoga wheel; however, its difference lies in its cosmetic aspects. Its main goal is to deal with back pains and has nothing to do with yoga.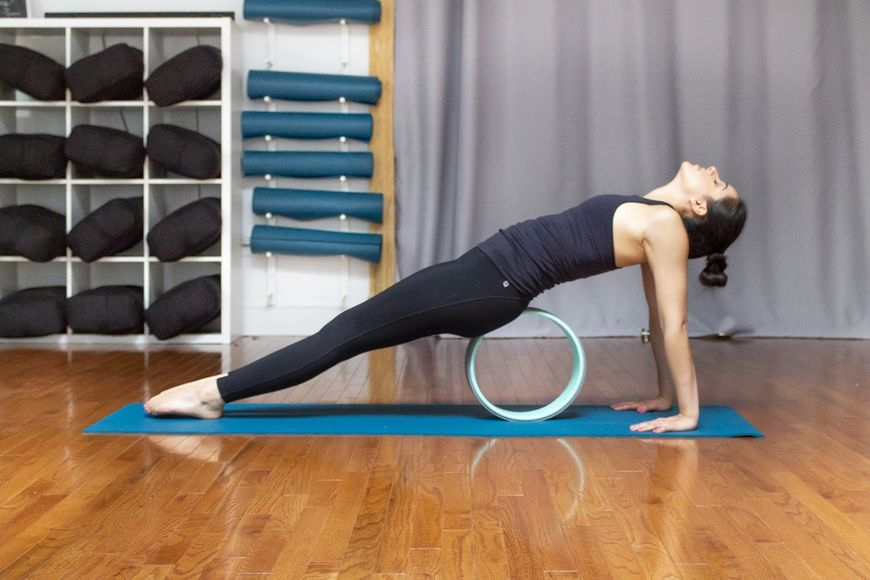 How Does The Chirp Wheel Plus Work?
The chirp wheel+ works by using a four-way stretch on the spine, extending the vertebrae and eliminating joint pressure.
Its unique patented spinal canal technology deepens your stretch, pushes, and pulls the spine apart in four directions.
SEE MORE: Watch how to use chirp wheel plus at:
How To Use A Chirp Wheel?
When using the chirp wheel, you have to:
Position yourself so you can start lying on the top of the wheel. Be sure that you place the exercise tool between your shoulder blades correctly.
Once you gain the correct position, roll forwards and backward. Ensure that the chirp wheel remains in the middle of your back.
Carefully check if your feet are solidly positioned on the ground. Finding the right balance is challenging, so practice gradually and gingerly until you feel comfortable.
Try sitting on the ground while your knees are bent to get into this stance correctly.
Afterward, Lean back until you find that your upper back is correctly rested on your shoulder blades. Please note that it's vital to sustain a firm grip on the wheel to avoid falls or injuries.
For starters, consider putting the wheel; against the wall and leaning back into the wall. Then, squat up and down. This technique makes it easier to roll the chirp wheel up and down the back.
Chirp Wheel Versus A Foam Roller
A chirp wheel is purposely for stretching and rolling out the spine to lessen discomfort and pain, ensuring relaxing stretch.
Meanwhile, the foam roller loosens tight muscles and allows deep tissue massage. Typically, you can use it after your workout.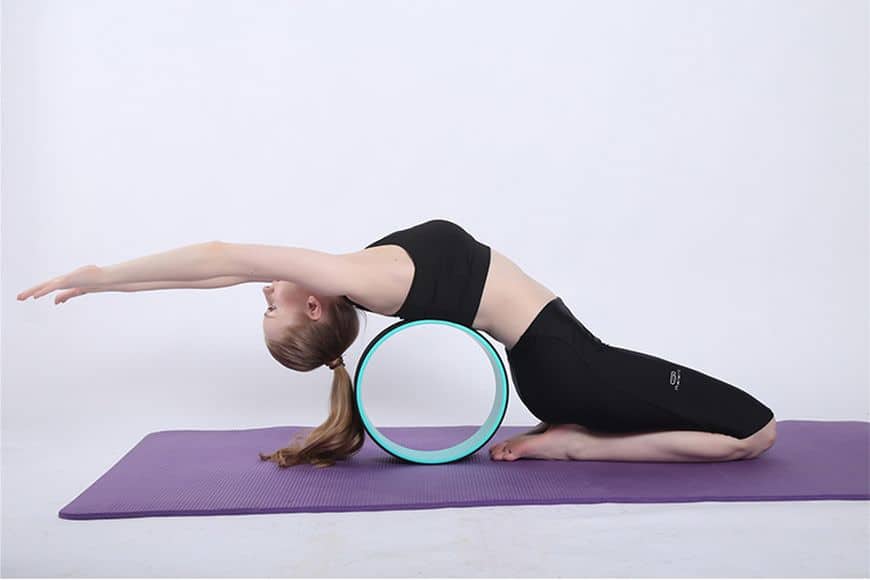 Chirp Wheel Vs. Yoga Wheel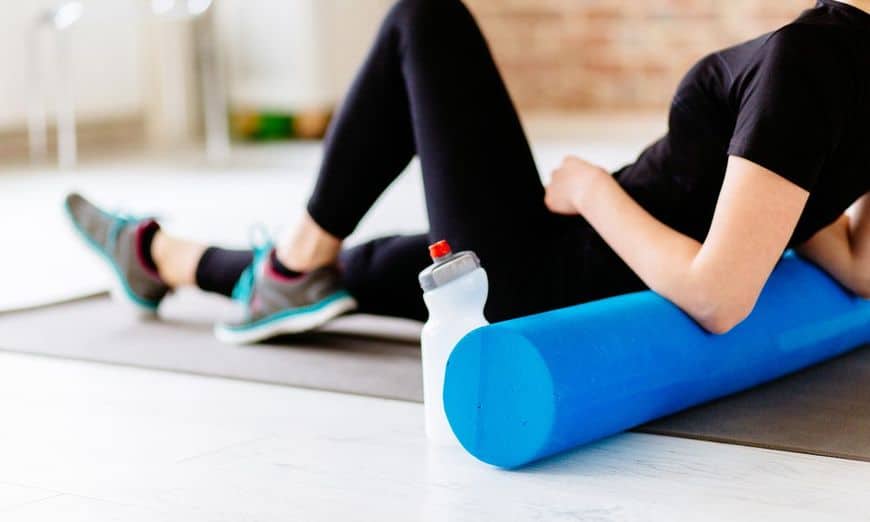 What Is A Yoga Wheel?
A traditional yoga wheel features a hollow shape, and its size is 12 inches wide. The materials used for manufacturing this tool are commonly a combination of cork and plastic. Essentially, its main objective is to improve your yoga poses.
It's ideal for enhancing spinal flexibility and soothing muscles. If you're suffering from mild back pain, you can use a backbend yoga wheel for your regular yoga practice.
Upsides
Transportable and improves flexibility
Less expensive option
Allows spinal stretch
Massages the body, specifically dealing with neck and back pains
Support and offers injury prevention
Helps boost one's confidence like an experienced yogi
Available in several styles and colors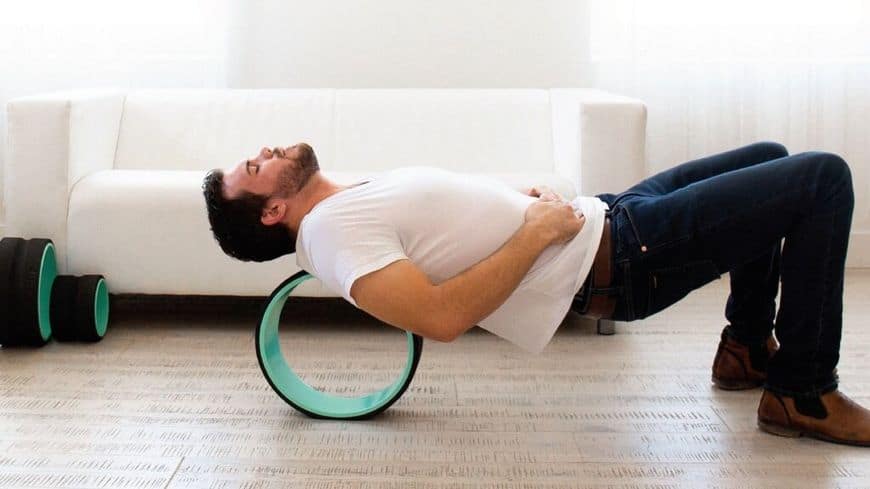 Downsides
Finding a 12″ version is slightly challenging.
Might put pressure on the spine directly
Doesn't feature a spinal groove that reduces pressure on the vertebrae
Can be challenging to use for first-timers
Features a thin layer of padding (5-10mm thick only)
Where Did Yoga Wheels Originate?
In August 2014, the firm and yoga wheel was initially established by Raquel Vamos and Dov Vargas. This yoga accessory was manufactured in the USA, and at present, it's being sent worldwide.
The yoga wheel's inventors didn't think that their yoga tool invention would be as famous as it is now.
How Does The Yoga Wheel Work?
Yoga wheels enable yogis to deepen their stretches to improve their flexibility. It allows a more challenging balance practice, providing excellent support to execute complicated yoga poses.
This tool stretches the entire front side of the body, profoundly and safely massaging the entire spine. It helps yogis move deeply and smoothly execute backbends, forearm balances, and open postures.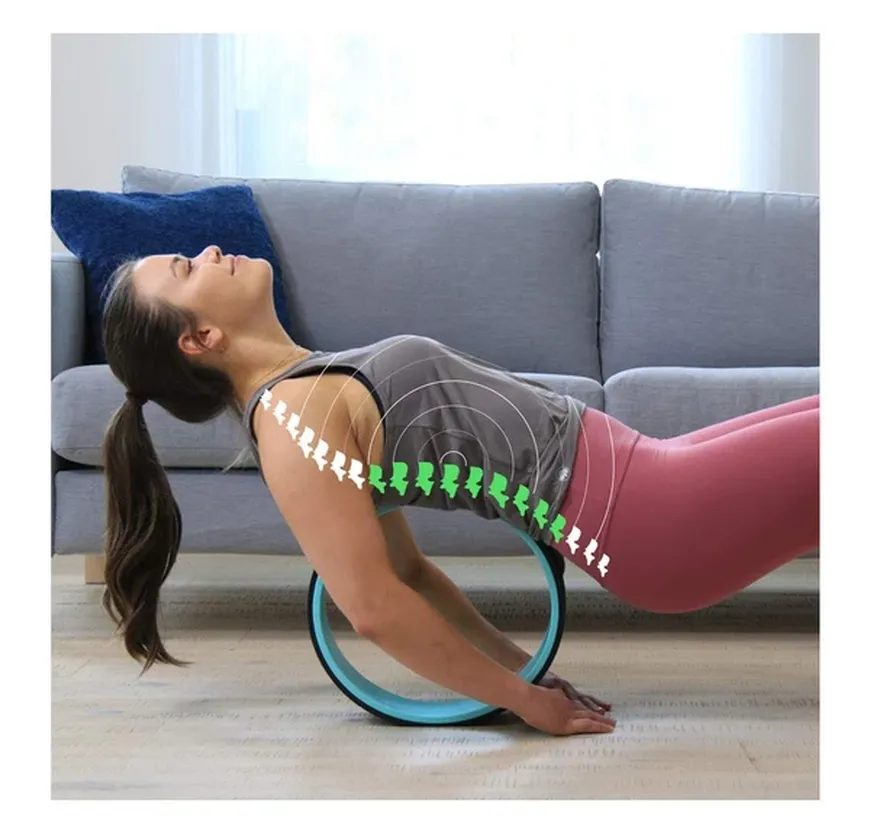 How To Use A Yoga Wheel?
Set your yoga wheel in an upright position while doing your yoga poses. The key here is to fully understand how to include a yoga wheel into your practice effectively and safely.
Begin with poses that keep you grounded while checking your yoga practice limits.
Yoga Wheel Versus Foam Roller
Yoga wheels are excellent for enhancing spinal flexibility and soothing muscles, enhancing yoga poses. They're ideal for massaging the body, beneficial for neck and back pains, and preventing injuries.
Meanwhile, foam rollers relieve muscle soreness, tightness, and inflammation and increase your joint's range of movement. You can use them during warm-ups or cool-downs, before and after workout activities.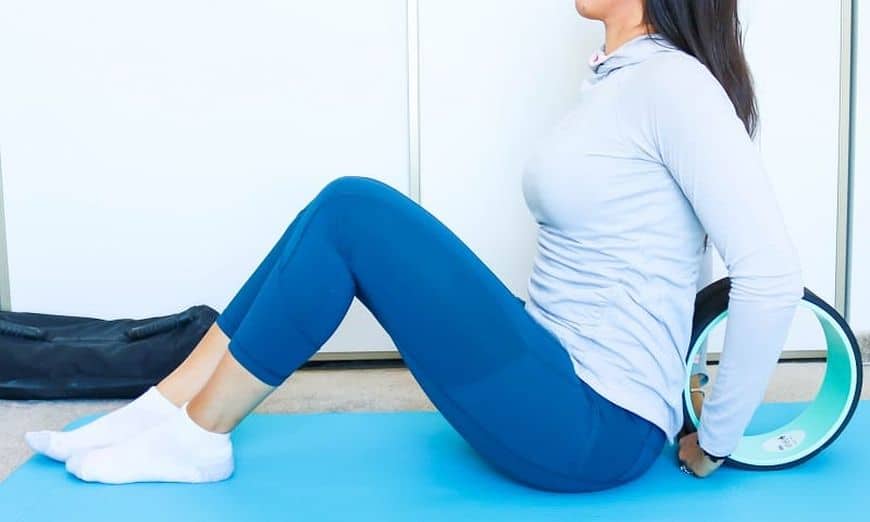 Chirp Wheel And Yoga Wheel Differences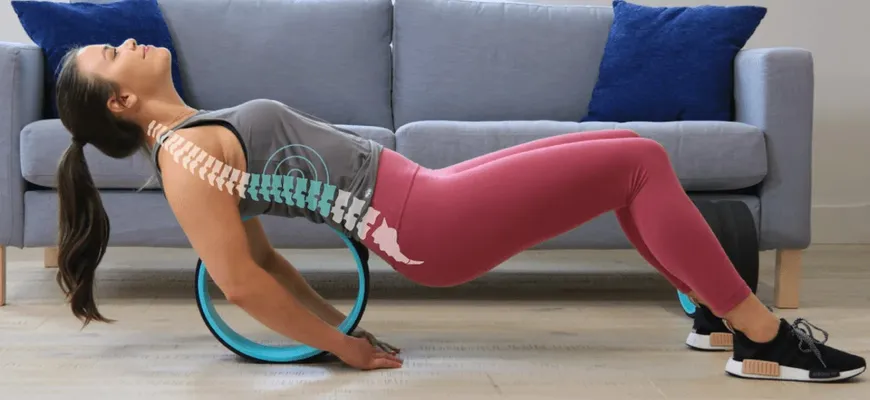 Grooves
Chirp wheels feature a center groove design or a patented spinal canal technology that enables deeper stretch.
It also has a four-way stretch design that makes it easier and sleeker when rolling out, providing much-needed support. In contrast, a yoga wheel back features a two-way stretch design only.
Since chirp wheels fit on the spine's curve smoothly, your sessions become more comfortable than when using yoga wheels.
Size
Chirp wheels usually come in bundle packs featuring distinct wheel sizes. You can select from 6, 10, and 12″ wheel sizes.
Weight
Since chirp wheels are more advanced, they are strong enough to handle 226 kilograms.
This capacity makes them ideal for heavy people as they can provide more safety. On the other hand, a yoga wheel can hold up to 136 kilograms.
Padding
The padding of a standard yoga wheel is thinner than a chirp wheel. It's worth noting that thicker padding can significantly lessen spine pressure during movements.
Chirp wheels feature thicker exterior padding of 20mm, providing more comfort and safety. Meanwhile, a yoga wheel features 5 to 10mm padding thickness only.
Cushioning
Comfort should be a priority when practicing yoga or working out. Therefore, an option with a thicker level of cushioning is a safer and better option.
Chirp wheels featuring 20 mm cushion thickness are foolproof choices.
Cost
Generally, you can buy yoga wheels for under $50 from many online fitness retailers. A chirp wheel+ is pricier because it has a unique patented design that you can't find in a yoga wheel.
Material quality
Several options are made using different materials. Some use top-quality ABS plastic material, TPE foam, and EVA foam.
Or, you can also select options made using eco-friendly, biodegradable, and non-toxic materials. What's essential is that you pick the model that works effectively and last for the long term.
RELATED: Looking for the best meditation cushion for back pains? Read this article.
Chirp Wheel And Yoga Wheel Similarities
Chirp wheels and yoga wheels call for a similar range of movement. Users need to place the wheel between their shoulder blades, focusing on their spine. These tools are purposely for rolling and synchronously stretching your spine and back.
To utilize a chirp wheel or yoga wheel correctly:
Start by sitting with your knees in front of you.
Be sure that your feet are placed firmly on the floor.
Carefully angle until you position the wheel above your shoulder blades while holding the tool tightly.
Finally, roll from side to side and gradually stretch out your back as desired.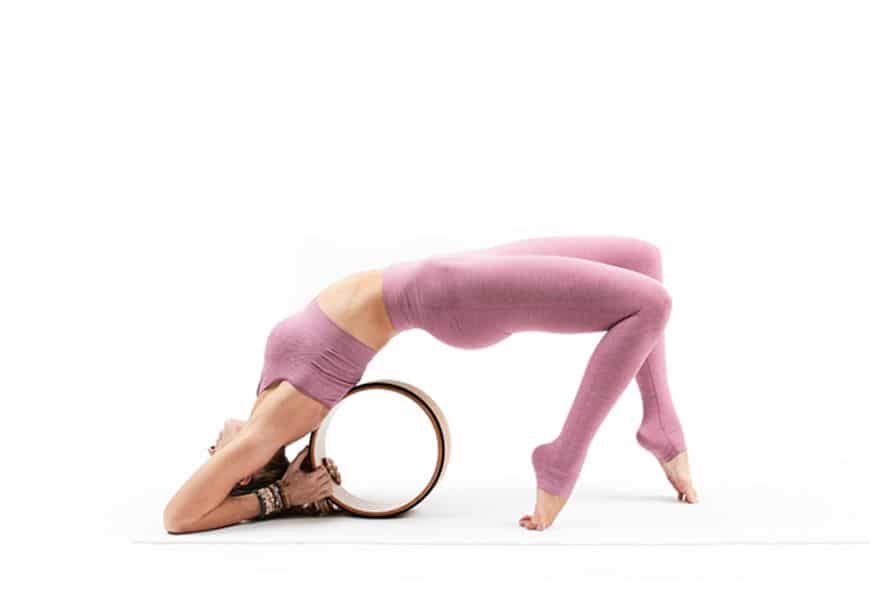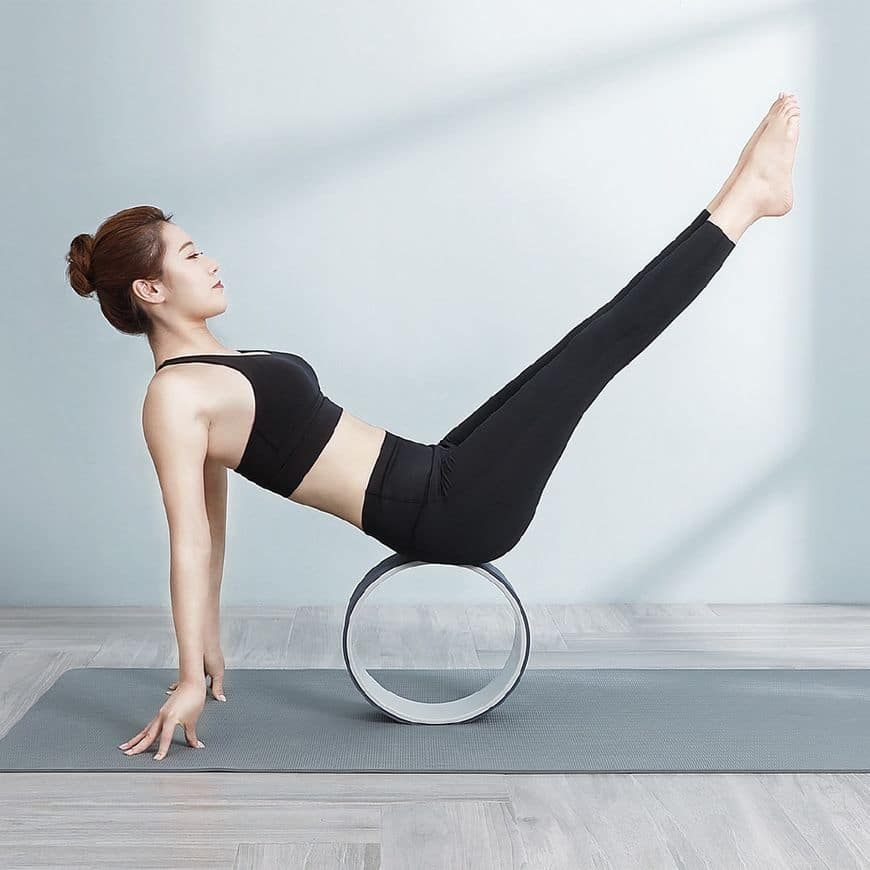 Which Wheel Is Suitable For You?
A traditional yoga wheel is ideal for regular old stretching and when you're working on backbend progressions.
You won't go wrong with a chirp wheel if your primary objective is to attain back pain relief.
Frequently Asked Questions
1. Does the chirp wheel work?
Yes. Chirp wheels work well in treating back pains and managing pain relief. This is why thousands of chiropractors and physical therapists recommend this medical device.
2. Is the chirp wheel a yoga wheel?
A chirp wheel plus is a yoga wheel. Notwithstanding, traditional yoga wheels don't feature a patented spinal groove tunnel in their core that extends your stretch. Likewise, yoga wheels feature a thin layer of padding only.
3. Which chirp wheel+ should you utilize?
The 6″ Chirp Wheel plus focuses on the trigger points that cause hip and back pains.
Advanced users who prefer a more profound stretch will do well using the 10″ Chirp Wheel plus.
If you prefer rolling out your lower and upper back and overall maintenance, the 12″ Chirp Wheel plus is your go-to.
REMINDER: You shouldn't use the 6″ Chirp Wheel plus when dealing with the lower back.
What makes a chirp wheel or yoga wheel different from a foam roller?
A standard foam roller is a device that aims to massage soft tissues and self-manipulation of the upper and mid-back. It's suitable for all-around body use and comes in small diameters.
It relieves sore muscles and tension, offering minimal spinal manipulation for pain relief. These factors differentiate it from a yoga wheel or chirp wheel.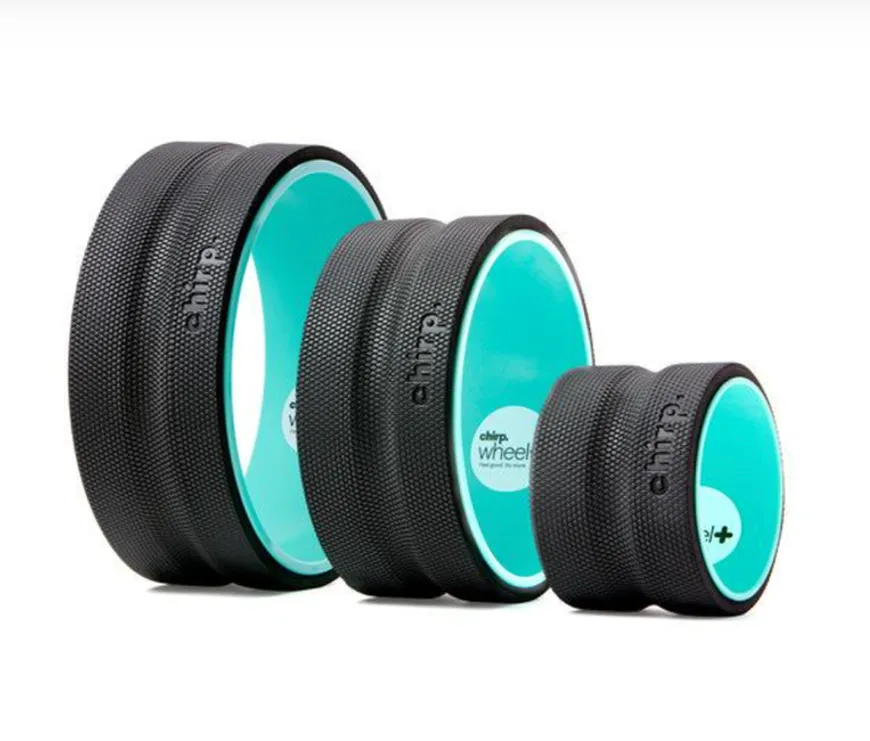 4. Do yoga wheels work?
Yes. Yoga wheels are valuable tools for starters needing assistance when executing more advanced yoga poses.
Advanced yogis can take their practice to the next level with yoga wheels, making difficult poses even more challenging.
They're excellent back massagers and help you relax after a rigorous workout performance.
5. Is chirp the same as a yoga wheel?
No. at first glance, chirp wheels and yoga wheels look identical. But, compared to yoga wheels, chirp wheels are:
ideal for a deeper stretch since they feature a four-way stretch design
more sensitive and less painful to use than yoga wheels
recommended by healthcare professionals for pain relief
two times thicker than yoga wheels
6. Does a yoga wheel crack your back?
Rolling on the yoga wheel and massaging the muscles surrounding your spine has the potential to crack your back.
Moreover, yoga wheels help your vertebrae pop back into place, giving you a great feeling. This indication tells that you have a flexible spine and get movements.
7. How do you crack your back with a yoga wheel?
Crack your back by massaging through the rolling movement of going up and down your spine's length.
This technique allows deep but safe stretches and makes you feel good after. More importantly, this back stretch relieves muscle tension and back pain.
Final Thoughts
Did you find our post about the chirp wheel vs. yoga wheel helpful? In our opinion, deciding which one is a better option depends on your needs and preference.
However, if you seriously need back pain relief, it's best to go for a chirp wheel. Since chiropractors and physical therapists recommend this exercise tool, you're safe to go.
There's no doubt that the Plexus yoga wheel boosts your confidence like an experienced yogi. But, chirp wheels work outstandingly to make you feel good and do more, providing the relief you're looking for.