How should leggings fit? While leggings are staple clothing for most women, getting the right fit is always an issue. Wearing leggings provides more comfort, support, and coverage in various activities and occasions. Legging with a perfect fit can also ensure a curvy and attractive look.
But, you don't simply pick whatever's available, and you don't only focus on the design and material it has. Remember that your leggings should fit you well to achieve your desired look and expected pleasant feel. How loose should it be? How tight should it be?
For sure, no one wants to buy the wrong leggings, so doing a bit of research can do the trick. Let's find out the general rule of thumb for addressing leggings fit issues below.
How To Know When Leggings Fit Too Small?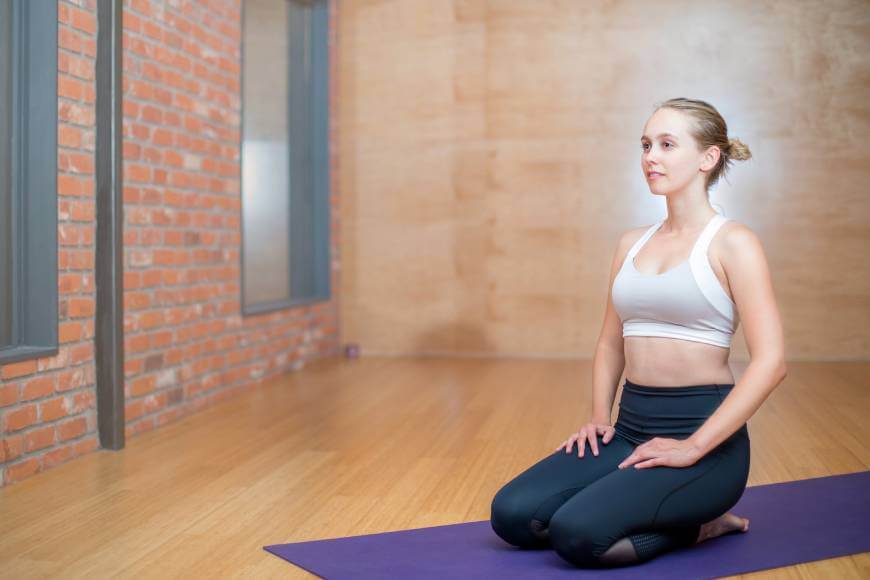 Here are your hints:
1. They become see-through.
Yoga pants, leggings, or workout leggings should be non-see-through. When they're too small and tight, they become transparent, and the material stretches too much, appearing too thin.
2. They fit tightly and dig around the midsection.
Perfectly-fitted leggings don't create a muffin top and don't leave red itchy marks around the midsection. The one with an excellent fit sits snug but still ensures comfort.
3. They're difficult to get on.
Small leggings are hard to slide and get on, and you'll need to wriggle and shake them constantly. Leggings with a suitable fit can get on proportionately sleekly.
How To Know When Leggings Fit Too Big?
Here are your cues:
1. They don't feel like a hug.
It is critical to choose leggings that provide gentle tightness and snug security. Frequent use and multiple washes cause the legging to stretch more. For this reason, ensure that you get a legging that is snug enough.
2. They roll, creep, or slide down.
Leggings with big sizes tend to creep, slide, or roll down. This is why it's essential to fit the leggings first to check if it fits right when doing intense movements.
3. They're baggy.
The fitting legging shows no bagginess and wrinkles but offers second-skin feel tightness. It's too big for you if it's not tight enough and hangs loose away from the body.
How Should Leggings Fit? Let's Read The Extensive Guides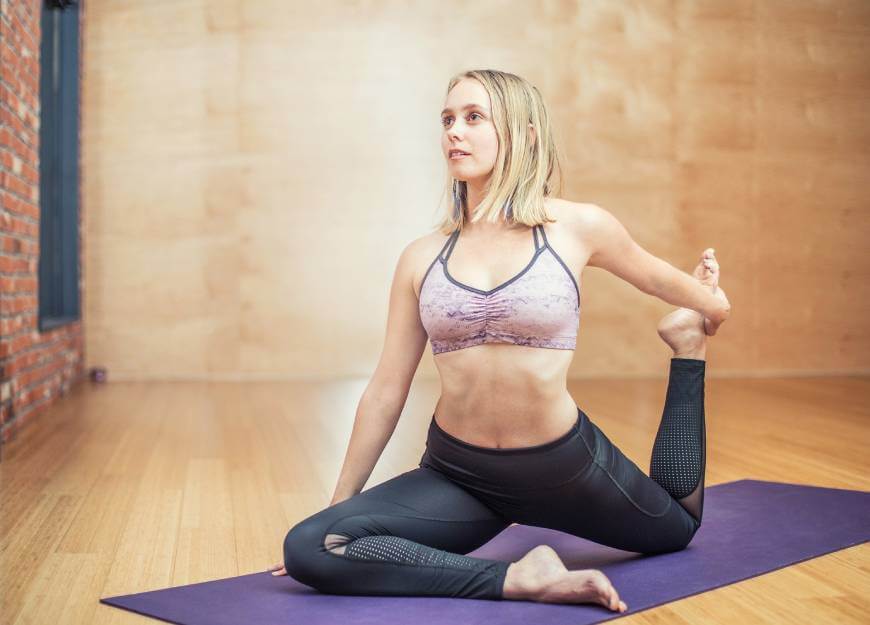 It can be overwhelming to decide which legging can provide you with the most comfortable fit. Hence, it's practical to consider the following cues to ensure that you get a legging that fits you precisely.
1. Squat-proof
Check if the legging is squat-proof by doing a few squats. If you notice that your underwear becomes visible when squatting, it's not the suitable legging for you.
2. Should fit like a second skin, snug but not too tight
The suitable leggings are unrestrictive and feel snug around the thighs, calves, and butt. They should fit close enough to the skin and avoid chafing issues.
More importantly, they allow freedom of movement regardless of how intense your fitness activities are.
3. High-waist design
High-waist leggings feature waistbands that offer excellent support and prevent creeping down during intense workouts. These options are also easy to mix and match with any sexy top without feeling exposed.
4. Rolling down
We recommend sizing up 1 to 2 sizes if your legging keeps rolling down. This way, there's no need to pull up your leggings most of the time constantly.
5. Check your crotch
We recommend sizing down if you observe excessive fabric around your crotch area. In doing so, you won't have to deal with chafing issues.
Meanwhile, if you notice the appearance of camel toe, this means the legging is too tight and overstretched. We recommend choosing an option with one to two sizes up.
6. Avoid being confused by length options.
You can select from cropped, ankle-length (7/8 leggings) and full-length leggings. Of course, it depends on your preference and requirements. It's good to have leggings of different lengths to serve different purposes.
Do you want to flaunt a bit of your lower calf, ankle or attain full coverage? The good news is that there's a suitable legging length for those.
7. Leggings loose around the knees
If you observe that your legging is loose or baggy at the knees, this means it's too big for you. Leggings should be fit and capable of stretching from top to bottom.
8. Material or fabric
Stretch fabric comes in two forms, four-way stretch, and two-way stretch. The former is adept at stretching both lengthwise and crosswise.
On the other hand, the latter can merely stretch in one direction, making it more restrictive and tighter.
9. Compression leggings
These leggings are ideal for providing maximum support, flatter and hold body curves. They're tighter than regular leggings, breathable, moisture-wicking, and stretchable.
Please keep in mind that the purpose of compression leggings is to enhance blood circulation. This function is ideal for minimizing exhaustion, ensuring excellent athletic performance, and accelerating muscle recovery.
We recommend soft compression leggings for daily wear and leisure. On the other hand, compression leggings are ideal for intense workouts and multiple sports.
10. Should be opaque, thick and non-see-through
High-quality leggings should have thick and solid fabric, making them completely opaque. Leggings that can retain their opaqueness, color, and shape are usually pricier; however, they're your best options.
They can stand multiple wears and washes and surprisingly look good as new. Size up if you observe that the material or fabric of your leggings becomes see-through or loses its compression.
11. Carefully pick your rise.
You can choose from various waist rises: high-waist, medium, and low rise. High-waist options are great activewear and ideal for ensuring comfort, support, and coverage.
Best of all, they won't cause sliding or rolling down issues during fitness activities. Moreover, high-waist leggings cover the tummy area, provide more stability, and eliminate the muffin top look.
What Are The Types Of Leggings That Fit Best?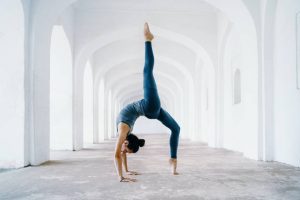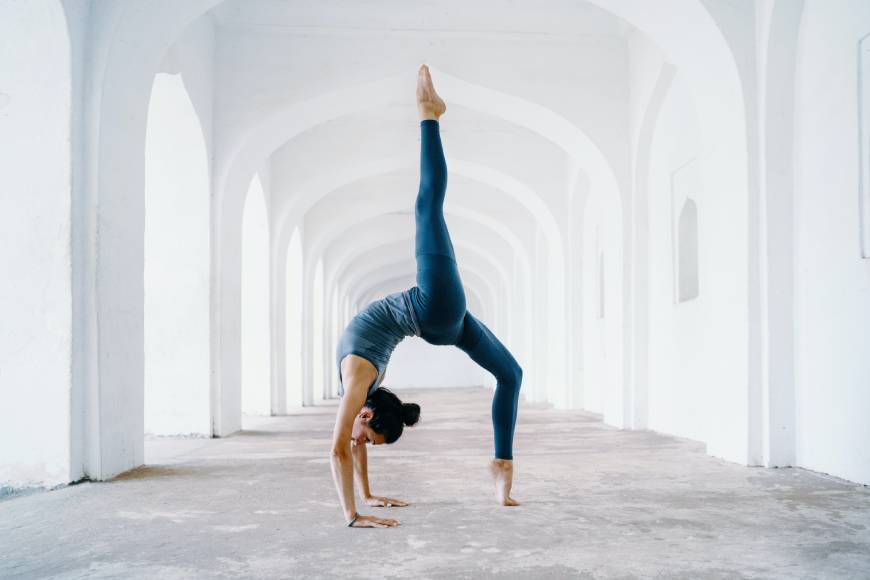 Leggings come in different forms, materials, and fabric combinations. By and large, it's always a matter of choice. However, the best options are leggings manufactured using a combo of spandex, nylon, and cotton material.
The fitting legging for you should not fit too tight and can provide the utmost comfort. Ankle-length leggings are deemed as ideal choices because knee-length leggings make you appear shorter.
How Should Leggings Fit At The Ankle?
The perfect legging for you should feel like a second skin and not prone to wrinkling behind the knee. When it comes to how it fits in the ankle, it should be a bit of loose-fitting in that area.
How Should Lululemon Leggings Fit?
To find out if the Lululemon legging you want to buy is fitting for you, here are your cues:
1. Check the material or fabric's appearance.
Sizing up is a must if the material appears shiny at the thighs or hips when you usually stand.
2. Does the legging make you feel comfortable?
Carefully check the bra band, underarms, and waistband. Do you feel any discomfort and severe tightness when you move?
We strongly recommend sizing up when you feel that something is annoyingly squeezing or pinching.
3. Do a movement test.
Check how the legging feels whenever you move around. Do some squatting, raising arms, twisting, lunging, and running in place. Observe how your lululemon legging feels when you are finished performing.
Did the legging roll, creep, or slide down? Did it remain in place, or did you feel the need to make some adjustments? Go for a smaller size if anything shifts around excessively.
4. Is the Lululemon legging prone to wrinkling?
The crotch or hip area will look overly stretched if your legging is too small.
If the legging is overstretched across the front of your hips and produces a wavy pattern, it's pretty small. Meanwhile, it's too big if you notice an excessive fabric and wrinkles surrounding the thigh crease and crotch area.
You should ensure that the fabric falls sleekly across the front of the hips when you usually stand up straight.
Read more: How To Hem Leggings? Here Are The Cues To Get Started
How Tight Should Leggings Be?
To answer your question, how should leggings fit; please check out the following clues:
Your leggings should not produce a muffin top; otherwise, it's too tight.
The leggings' seams shouldn't leave marks on the waist area.
They should be squat-proof and make your underwear invisible.
It shouldn't produce extra bulges, fits comfortably, and provides sufficient body support.
The leggings shouldn't be baggy and don't require constant pulling or lifting during intense workouts.
Watch a video about how to wear leggings and find good quality ones at:
Final Thoughts
Did you like our post about how should leggings fit? As you read, leggings are every woman's go-to when working out, running errands, and attending other events. It is a must to ensure that you get the precise fit and size as staple clothing.
Please consider that the best legging for you should fit comfortably and snugly, similar to a second skin. We understand how challenging it can be to find the right pair of leggings considering countless hearsay.
It would help if you didn't fall for deceptive claims, tips, and tricks to avoid getting unsatisfied in the end. Hopefully, you found our extensive guide helpful as you make the final buying decision.
Read more: How To Hem Leggings? Here Are The Cues To Get Started