Have you tried watching yoga on Netflix and Amazon Prime? These sites are two of the best places where you can start your yoga journey. You can uncover limitless yoga-related content like yoga documentaries, workout, and instructional videos.
You won't see comprehensive yoga workouts on Netflix; however, you can discover more by watching their yoga-related dramas and documentaries. Such contents and videos are helpful, especially for beginners who'd like to practice yoga at home.
Meanwhile, you can uncover some inspirational stories about how therapeutic yoga is by watching yoga on Amazon Prime. What's more, you can watch some workout videos that are recommended for people who aren't flexible enough.
Undoubtedly, yogis will enjoy lots of clips and shows, which are beneficial for their fitness and wellness goals. In this post, we'll tackle more fascinating content about yoga. So, let's get the ball rolling!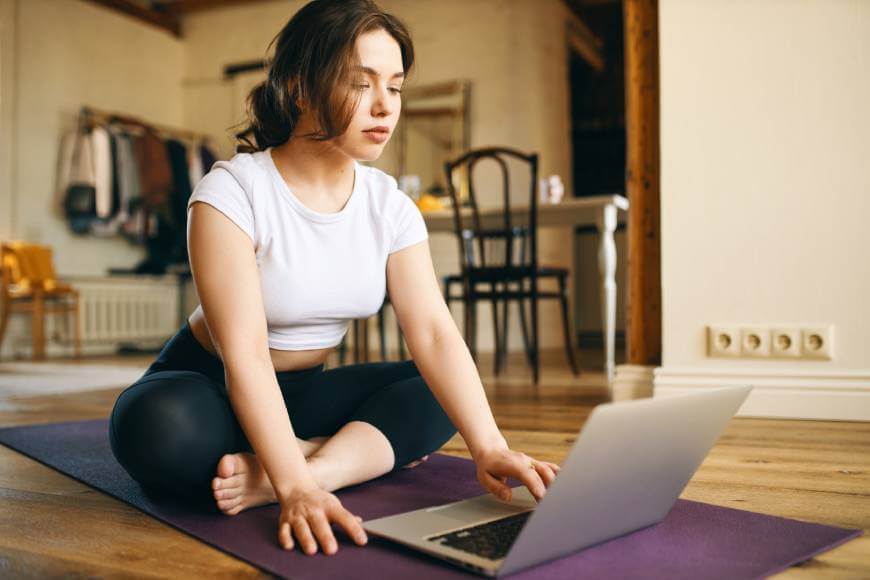 Yoga On Netflix: What Are The Most Recommended Streaming Choices For Yoga-Themed Content?
As previously mentioned, you won't find yoga-coaching videos on Netflix; nonetheless, you can take pleasure in several yoga-related documentaries, including:
1. The Goop Lab
This is a must-watch as it delves into several trusted alternative therapies. You can explore breathwork, eating vegan, female orgasm, and energy healing, to name a few. Different field experts join Gwyneth Paltrow and other Goop staff to instruct and entertain viewers.
2. 100 Days of Solitude / Cien Dias de Soledad
This account tells about photographer Jose Diaz who went to a far-off mountain region located in northern Spain. He lived there for a hundred days without human interaction to reconnect with himself and nature.
3. I Am Maris
This is about Maris Degener, a young lady who was able to recover from an eating disorder. The story tells how she turned to yoga for healing and self-acceptance. This documentary is encouraging and teaches viewers how to defeat adversity.
This narrative is a testament to how yoga can change someone's life in a more immense way.
3. Bikram: Yogi, Guru, Predator
This narrative is about Bikram Choudhury who started Bikram hot yoga. He was a prominent name in the world of yoga because of his leading-edge instruction.
Regardless, he also became the hot item of harassment and offensive allegations. The story accounts for his successes and failures and how influential he was.
4. Wild Wild Country
This series is about Bhagwan Shree Rajneesh, an Indian guru, and the cult he founded. Later on, some disgraceful practices rapidly made them a target of the federal government.
To uncover what Wild Wild Country is, you must watch the entire series.
5. Chambers
The story focuses on a young lady who gets a heart transplant after having a sudden heart attack. She started experiencing hallucinations that are linked to her heart donor's death.
The story also featured a father who lost his daughter practice shirtless meditations and breathing practices. In that scene, you'll learn that meditation can indeed help you heal and recover physically, emotionally, mentally, and spiritually.
6. On Yoga: The Architecture of Peace
This documentary narrates the story of the author's ten-year experience in capturing photos of the most renowned yoga masters. This film was made as a more profound extension of the original book. It aims to communicate a new and better perspective of the Art of Yoga.
7. Walk With Me
For those wondering how it feels like to be a Buddhist monk, this one is a must-see. Thich Nnat Hanh, a Zen Buddhist master, shares his in-depth knowledge about the monastic community.
If you need some mindfulness boost and have cluttered thoughts, this might be perfect for you.
8. Heal
This documentary focuses on interviews with influential and spiritual leaders like Deepak Chopra. The narrative is not yoga-specific; instead, it explains the connection between physical and mental wellness.
Hence, if you wish to explore more on the spiritual aspect of yoga, this is ideal for you.
9. Ram Dass, Going Home
This docudrama highlights the last chapter of Baba Ram Dass' life. He was renowned for his exhaustive research in psychedelics and became a spiritual leader globally.
But, after he suffered from a stroke, his health began to weaken, and he moved to Maui Island. He reflected and deepened his spiritual life and practice on his final days.
Watch Out For Other Netflix Yoga Streaming Possibilities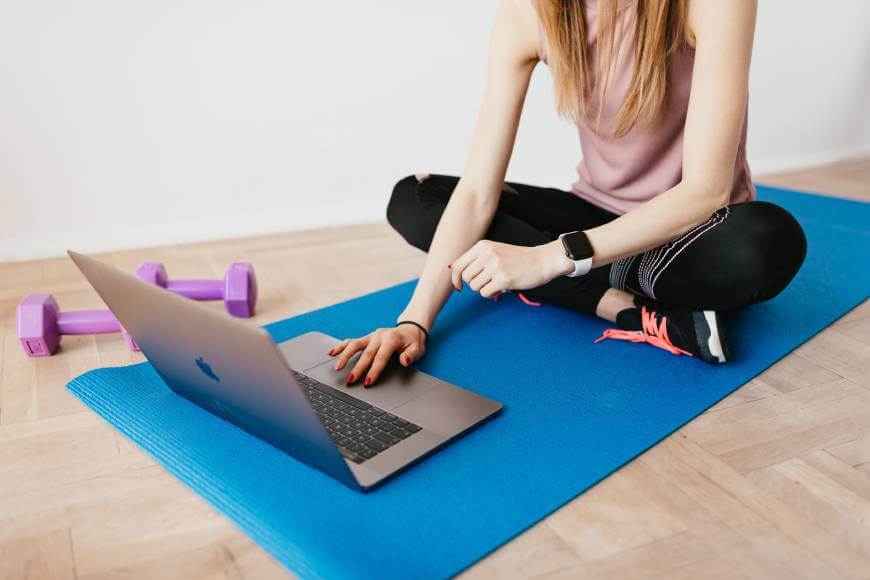 For you not to miss out on the latest yoga-themed content, keep searching for the best yoga on Netflix regularly! They'll constantly update you about what's upcoming and even suggests the previous ones you've missed.
With many yoga-themed options to select from, you can find the one that best matches your yoga needs and preferences. So, don't just sit there; consider searching yoga on Netflix 2021 now.
Yoga On Amazon Prime Video
You can consider Amazon Prime Video one great solution for more comprehensive yoga routines that you can practice at home.
You might want to check out the most recommended yoga on Amazon prime, including:
1. 30 Day Yoga Power Up
This 31-part video series showcases slightly more strenuous poses, flows, and practices. Nevertheless, it is effective in strengthening your stamina in 30 days.
2. Yoga with Adriene: Yoga for Beginners
This video is specifically created for novices and yogis practicing yoga again after a long break. It's an exhaustive yoga class but performs gentle practices, and it lasts for 45 minutes.
3. Yoga Meditation for Stress Anxiety & Relief
This video specifically aims to help viewers improve their physical and mental state. It's recommended for people who prefer relaxing exercises with less body pressure or tension. The video lasts for 22 minutes.
4. Awake: The Life of Yogananda
This tells about the life of Yogananda. You'll uncover the ordeals he faced while communicating his message about obtaining higher consciousness and his journey to enlightenment.
5. Yoga for the Inflexible
This 4-part video series will benefit those who could exert more resiliencies in their limbs and torso. It contains different videos that teach a few techniques on opening up your shoulders, spine, and hips.
The yoga coach sometimes uses some props to make the session more exciting.
6. Yoga Sweat: Beginners Power Yoga for Weight Loss
This 26-minute power yoga practice is ideal for those who prefer strenuous exercises. It teaches more sweat-inducing and blood-pumping cardio exercises. Still and all, it's safe for beginners because it offers some modifications for very challenging poses.
7. Eat, Pray, Love
This film inspires viewers to make a pilgrimage over to Bali and India. In doing so, you will learn how to deepen your introspection and practice.
Meanwhile, if you'd like to focus more on yoga instructional videos, this page is worth reading.
Yoga Videos On Hulu
Hulu has showcased uncountable yoga instructional routines and workout videos for several years now. Unfortunately, these days, it's rare to search for any yoga-themed routines in their library.
Don't worry; we'll try to update you for any upcoming posts made by Hulu in the future. We'll be glad to help you go back to watching the latest yoga videos on their site.
Yoga On YouTube
Unquestionably, YouTube is one the most excellent sources for diverse types of video content as it's free. It also makes it easier to search various yoga videos because you only type what you need to know.
You can discover countless yoga-themed tips and tricks, and it does not require purchasing a subscription. But, for a more premium search, you might want to consider YouTube premium.
Here are the most recommended YouTube videos for you to check out:
This 35-minute video showcases slightly challenging yet moderate yoga sessions that are beneficial for all muscle groups. It aims to improve your ability to balance, so it teaches you some techniques to improve it.
2. Sarah Beth Yoga – Full Body Yoga for Flexibility and Strength
This 25-minute video is ideal for everyone as it instructs viewers with less strenuous practices, so it's enjoyable. It trains all the muscles fairly, without feeling some pains afterward.
Meanwhile, you might also want to check out
about a very relaxing yoga for beginners. It's a 30-day yoga session to attain mindfulness, improve sleep, and relieve various body pains.
Final Thoughts: How Can You Stream Yoga?
It's rare to find yoga-related content on Netflix and Hulu, but you can unveil more on YouTube and Amazon Prime. Through researching, you can uncover many yoga videos that you can resort to when performing yoga routines at home.
Yoga on Netflix and Amazon Prime are the best sources that can serve as your information-rich partners in yoga. You can view yoga-themed documentaries, series, and instructional videos that can provide you with more inspiration to get started.
While watching DVDs is also a great option, streaming services offer you more modern, exciting, and boundless opportunities.