Doing yoga calls for a significant amount of patience, especially if you're a beginner. It's essential to brace yourself to feel at ease on your regular yoga routine eventually.
How often should you do yoga? For beginners, it's vital to practice two or three sessions in a week to get started. Your body will get used to the yoga poses and stretches that you'll be working on.
Are you hesitating to start your yoga practice because you feel you don't have enough time? Fortunately, you can find online yoga classes that could perfectly fit your hectic schedule.
You could get your yoga workout accomplished on your schedule if you take yoga online. Would you like to explore more why the frequency of practicing yoga is vital? Then, let's go through the rest of this post to discover more about it.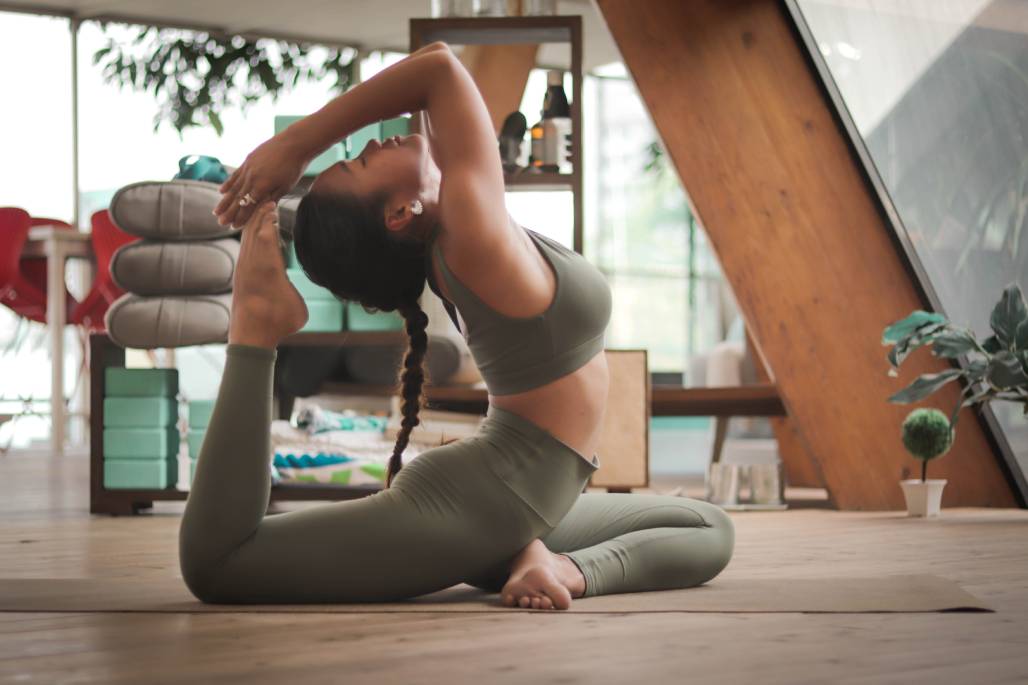 How Often Should You Do Yoga For More Flexibility?
Doing yoga for three to five classes per week can help you improve your flexibility. Building moves for flexibility include splits, kneeling crescent lunges, and twisted lunges. These moves certainly change your body quickly.
Yoga for flexibility helps improve your posture and lessen muscle soreness. It is critical to keep loose or stretch out to prevent tightness in hamstrings and hips.
How Often Should You Do Yoga To Lose Weight?
Two and a half hours of low to moderate-intensity exercise is required each week to lose weight. You need to practice yoga six or seven days per week as part of your weight loss program. But, do this only if you don't start to feel the effects of overtraining.
Any type of yoga could contribute to weight loss. All yoga moves add to your total calorie consumption daily. And, this remarkably helps burn more calories than you consume.
Nonetheless, the best type of yoga for weight loss is vinyasa yoga. It commonly moves at a faster speed, so your heart rate remains high throughout the session. Beginners can try a slower vinyasa class, which is known as a slow burn and warm yoga.
Meanwhile, you can also try hot yoga or Bikram yoga. It makes the heart work harder in supplying oxygen to all working muscles. Since the concept of this practice is in a heated room, you can torch more calories.
How Often Should You Do Yoga For A Calmer Mind?
If you wish to enjoy a calmer mind, do yoga daily and frequently as you need. This does not necessarily mean enrolling in an entire yoga class. A few minutes of breathing practice can help you achieve a calmer mind.
Daily yoga practice promotes better sleep, reduces anxiety, and balances your emotions. More importantly, it promotes stress relief. You can try pigeon pose, legs up the wall, child's pose, or goddess pose for best results.
How frequently you need to do yoga to calm your mind depends on your needs. Do it as frequently as it feels right for you. You can practice any yoga pose that relieves your stress or ease your mind.
How Long Should I Do Yoga Each Day?
Practicing yoga for merely 12 minutes a day can improve bone health. Moreover, 20 minutes of yoga a day can enhance your working memory and concentration.
Frequency is more significant than duration. A ten-minute yoga session a day daily is more beneficial than an hour a day per week.
How Often Should You Do Yoga For Better Balance?
If better balance is what you're aiming for, the frequency of your yoga practice is crucial. Take in mind that balancing is a daily practice. So, it will change depending on what you've done during the day or how you sleep.
Try mountain pose to prepare the foundation of how to feel your legs and the floor. Then, try the eagle pose to build your balance and test your stability.
This pose works body muscles, binds your legs and arms, and challenges your mind. Fundamentally, incorporating yoga into your life can help you achieve better balance.
How Often Should You Do Yoga For Stronger Muscles?
If you want to be stronger, you need to focus more on the type of class to take. Concentrate more on strength-based yoga classes, such as power yoga or power vinyasa. Such classes concentrate more on physicality so that it would transform your body.
We strongly suggest that you take these classes thrice a week. And, be sure to devote enough time to rest in between to recover from rigorous practices.
Try full-body poses like plank pose, boat pose, warrior 3, warrior 2, chair pose, and chaturanga. Execute these practices for one to two minutes each to get optimal results.
How Do You Know What's Right For You?
Ideally, a good yoga practice consists of roughly 3 to 5 classes per week. But don't worry if your schedule is hectic. Don't stress yourself about the number of times you should do yoga.
If doing yoga often is impossible for you, try one session a week to get started. Once your schedule permits, you could add another session to the mix each week. Once your body gets stronger, you'll be motivated to ramp up your yoga routine.
Put simply, do whatever it's sensible or convenient for you. One yoga session is better than none at all. If your time allows, slowly work your way up to three sessions a week.
Regardless of your schedule, it's significant to allot time to allow your body to rest and recover. Meanwhile, you might want to watch
about essential yoga poses for beginners:
Things To Remember When Practicing Yoga
1. Follow the Rule of Thumb
You can practice yoga more excellently between two to five times a week. Allow your body to adjust and get used to your yoga routine. Eventually, you can do more if you want. Begin with easy and subtle moves and go for yoga classes that perfectly fit your schedule.
Nowadays, beginners can choose from short-length yoga classes, so you don't need to stress yourself.
2. Start To Base Your Yoga Workouts On Goals
Adjust your yoga session frequency depending on the goals you have in mind. More sessions are needed if you wish to lose weight and build strength.
It is also valuable to stick to a plan. Meanwhile, two to three sessions a week are recommended if you wish to build your flexibility.
3. Always Take Into Account Your Mental Health
Plan your yoga practice around your mental health. You might require more sessions during more stressful times. In yoga, there is no competition; it's all about your physical and mental health.
Listen to your body and find out what will work best for you. Love yourself to maximize your practice.
It's Good To Make Yoga A Healthy Habit
Our happiness, lifestyles, and successes are all outcomes of our habits. Sure thing, with healthy habits, we could enjoy a better and healthier life. It entails dedication and hard work to make yoga a healthy habit.
To form your new healthy yoga habit, you need to spare 15 minutes of daily practice. It could be 15 minutes in the morning, evening, or before work, etc. Additionally, you need to set your goal, stick to it, and manifest it.
In addition, you can also consider taking your yoga practice everywhere you go. The delightful news is that with today's advanced technology, you can do yoga using mobile apps.
Lastly, you deserve to give yourself a reward when you follow through. You can reward yourself as often as you'd want. For instance, cook a sumptuous dinner after your first whole week of yoga practice.
Once that habit is established, the rewards would certainly come naturally. You'll feel good about your body, and your mind will collect limitless benefits.
To learn more about yoga, you may go over this page.
How Do I Reach My Yoga Goals?
You can practice yoga as frequently as your body allows and as often as you would prefer. As a newbie, begin slowly with one, two, three sessions per week. From there, you could gradually heighten your practice if you're able to handle it.
Meanwhile, more experienced yogis might perform yoga daily or go for longer sessions on a schedule to allow recovery. Some yoga enthusiasts perform high-energy yoga workouts as they fell in love with it. Once you get used to it, you'll indeed look for ways to fit yoga into your life.
Read more: Yoga On Netflix And Amazon Prime: What Yoga-Themed Contents To Watch?
What Is Your Purpose For Practicing Yoga?
Some people do yoga to achieve the ideal physique. Nevertheless, this objective is unattainable, and as a real yogi, realizing that fact is a must. The true purpose of yoga is to obtain optimum health; remember, perfect beauty and health don't exist.
True happiness comes when you accomplish the true objective of yoga, which is optimum spiritual, mental, and physical wellness. Practicing yoga helps you become fulfilled in the core of your being.
That inner happiness will reflect through your expressions, eyes, and attitude towards others. This makes you truly beautiful regardless of your appearance, the clothes you wear, and your age.
Read more: Slow Flow Yoga: What Are Its Overall Benefits?
Final Thoughts
To wrap up, the frequency of doing yoga is more important than duration. Hence, it is best practiced between two and five times a week. It's not always easy, especially at the beginning.
But, over time, with patience, determination, and dedication, your body will get used to the yoga routine. Interestingly, you might find that your body could even handle more than five sessions each week.
While it could be initially challenging, yoga is surely something that you'll be fond of. Doing it more often will help you look and feel a lot better
Read more: What Size Yoga Mat Do I Need ? Guide To Choose It Right