Yoga is a form of exercise that cultivates an awareness about your body through movements and breathing practices. But how often did you think to start doing Yoga, and then let that be just a thought?
The reasons for procrastination could be many. The practice of Yoga has immense benefits, and it is a step towards better living. Millions of people around the world emphasize Yoga for their happier and healthier living?
Why are you not getting on the mat? Or is it the mat itself? Are you confused about what size yoga mat do I need? A good quality yoga mat that provides you with a grip to perform all the asanas is essential while practicing.
Worry not, we have a definite guide here on Yoga mat size and dimensions. Let us go over the different size charts for yoga mats. Also, how should you go about selecting yours?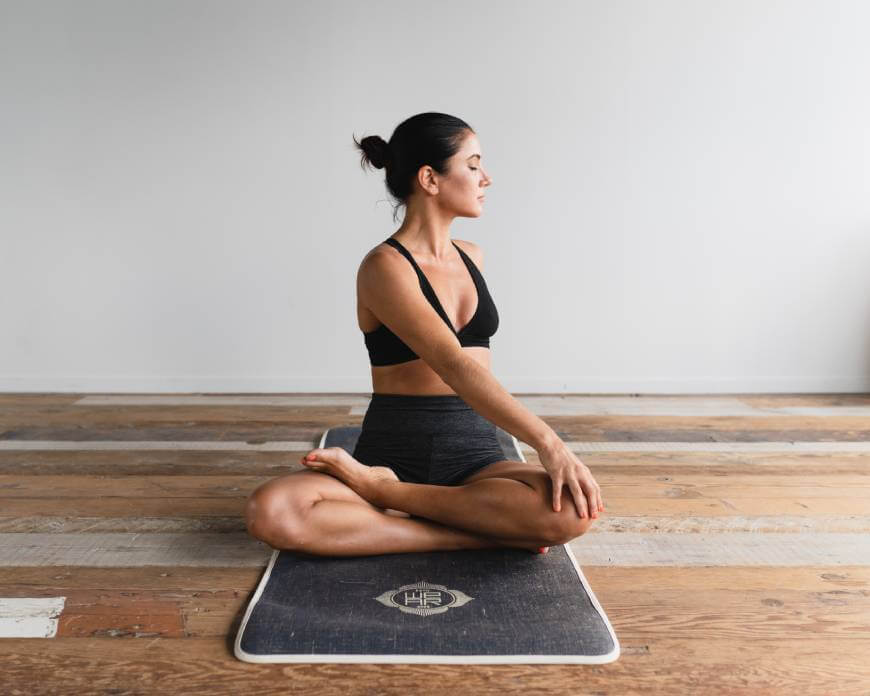 What's Is A Yoga Mat's Standard Size?
There is no concrete rule regarding the ideal size of a yoga mat. One of the primary factors that define selecting a perfect-sized yoga mat is the person's height and body structure.
And to suit the differing heights of individuals, yoga mats have quite a few size options. The average dimension of a yoga mat is 68×24 inches. So, anyone who is shorter than 6 feet can easily use this standard size.
Are you taller than your toes or your head? May be off the edges of the mat when you lay down straight, or what is called the Shavasana pose in Yoga. So, a standard size may still not be fit if you are tall.
What Is The Ideal Size Of My Yoga Mat?
It is a very valid question on what size yoga mat do you need to buy. Now, there are quite a few Yoga mat sizes available. Choosing the right size depends on your body type.
The standard size is 68×24 inches but, if you're above 6 feet, you won't be comfortable on this yoga mat. In that case, you can go for a bigger size, like one with 72 inches long.
While choosing the perfectly-sized yoga mat, keep in mind to leave at least 3 inches extra space on the mat. It will help you to have some room to shift up or down while performing the asanas.
Now there is no definite science behind picking up the size for your yoga mat. But here's what you could ideally go with:
If your height is around 5'5", you can go with 68 inches mat.
If have a height of somewhere between 5'5" and 6", a 72 inches mat should be fine.
If your height is more than 6", an 80 to 84 inches yoga mat will be the right choice.
Whenever you look to buy a yoga mat, it is best to take a small test. Lay down on the mat and sleep in a straight position. Check if you feel you comfortably fit on it, leaving aside a little extra space.
If you feel your toes or head is right on the edges, go for a larger size. To check the apt thickness, you can also do a four-limb pose.
You will have to slouch with both your hands and legs on the mat, applying pressure with all four touchpoints. If you find the grip is loose, go for a thicker mat. It brings us, to the next point, on the thickness of a yoga mat.
How Thick Should A Yoga Mat Be?
While considering the height of the mat, you must also notice the thickness of a yoga mat.
Some yoga mats are made in a super-thin style so that they can be compact and travel-friendly. But extremely thin mats may not give you the necessary grip while performing all asanas with ease.
So having a thick one that is stable on the floor as you move is important. Another disadvantage of using thinner mats is, they can come in the way as you take a pose and thus disturb your entire form.
Thicker mats provide a cushioning effect and thus help you hold a pose longer. They are also more comfortable on poses that require strength on your knees and joints. The cushioning comfort makes balancing easier.
A standard mat has 3mm thickness, whereas the lightweight ones are 1.5mm thick. When you choose the thickness of your yoga mat, you should not only consider your comfort while doing the asanas.
But also when carrying the mat. There's no point buying a thick yoga mat only to have a tough time holding and spreading it out.
On the other hand, if you practice rigorous Yoga poses, you need to have a sturdy mat surface to perform your postures.
If you suffer from back or knee pain, you might want a thicker mat up to 5 to 6mm thick. On the contrary, if you are going to travel, a lighter yoga mat is ideal. These have a thinner surface and are called travel mats.
Read more: Exercise Mat vs. Yoga Mat: Know Their Differences & Similarities, Too!
How Long Does A Yoga Mat Last?
Your yoga mat is probably the only equipment you need to do yoga. This also makes it vital to keep the quality in check. After using the mat, for hours and years together, it is bound to get worn out. Its texture will get affected.
Performing yoga on a worn-out mat can invite injuries. It is even possible that only one side of your mat is damaged or becomes slippery.
On average, you can use a yoga mat for 8 to 12 months. This is if you are regular with practicing Yoga. The lifespan of a yoga mat is dependent on the quality and frequency of its usage. It is best to keep checking the condition, look for torn or tears after every few months.
If you are someone who sweats a lot, you might have to replace your mat sooner.
Recommended Options For Each Yoga Mat Length
We have a few recommendations for the best yoga mats according to the length:
Best 24 x 68 mat: Jade Harmony Professional
Best 26 x 72 mat: TOPLUS Yoga Mat
Best 26 x 85 mat: Manduka Black Mat Pro
Best 36 x 84 mat: YogaAccessories Extra-Long and Extra-Wide Mat
What Are The Best Materials For A Mat?
While selecting a yoga mat, also pay a little attention to its material. The mat's quality depends on the material and it also affects the grip it provides. There are different materials used for making a yoga mat like:
PVC: This material is made from plastic and provides an optimal floor grip. But because they are non-absorbent, you can easily slip and trip on them, especially if you sweat a lot. Although it is highly durable and easy to clean off, PVC is not biodegradable.
TPE (Thermoplastic Elastomer): It is a combination of rubber polymers and plastic. Compared to PVC, they are environmentally friendly and in some cases, can be recycled. But in terms of durability, these man-made versions are less effective.
Eco Mats: These yoga mats are from natural things like rubber, jute, and organic cotton. They can be a little less grippy on the floor. But given the complete environment-friendliness, they are the best yoga mat materials to have.
The mats are of PVC or vinyl. Unless sustainability is not a concern for you, you can opt for these. Unless you have a latex allergy, avoid rubber-made mats.
Is A 4mm Mat Better Than a 6mm One?
Just like the differing materials, Yoga mats are available in varying thicknesses. The yoga mat's thickness matters depending on the kind of asanas you perform. If you require more cushioning to get a grip, then a 6mm wide yoga mat is appropriate.
For those who do not like padding, a 4mm mat suits just fine. The thickness of a mat also correlates to the age of the person performing yoga. Elderly people experience joint aches, so some poses can seem difficult.
So, a thicker mat is preferable for them. For someone who is a newbie and just in the beginner's phase of learning yoga, a 4mm mat is good enough.
We hope the above answers help your query on 'What size yoga mat do I need'. From considering the size, usage, material, and thickness, all the factors are carefully noted and addressed.
So, if you are finally at the stage of practicing yoga regularly, it is good to start by investing in the right yoga mat for you. We also have some best recommendations so you do not have to go scouting for the perfect one.
Read more: How To Clean Jade Yoga Mat Like An Expert – A Quick Guide