Ripped or destroyed leggings are now the staple of many fashionistas and home-bound ladies. But do you have to pay for ripped leggings to make everything trendy? We do it ourselves.
That's right, girls!
You can watch tutorials on TikTok or on YouTube on how to DIY ripped leggings. This way, you don't have to spend a fortune to buy one! You see, purchasing ripped leggings may cost you a lot. There are still cheaper ones, but you may not like the style or design.
You can also do the ripping (or distressing) on old leggings, so you save a lot while having customized results. Old leggings may not be as stretchy as brand-new ones, but they will still deliver a trendy look!
This article gives detailed step-by-step ripped leggings DIY inspired by Kendal Jenner and other celebrities. You can do the ripping or cutting of the leggings (or tights) while you wear them. But it might be too dangerous: so better do it while they are laid down, like what we have to show you.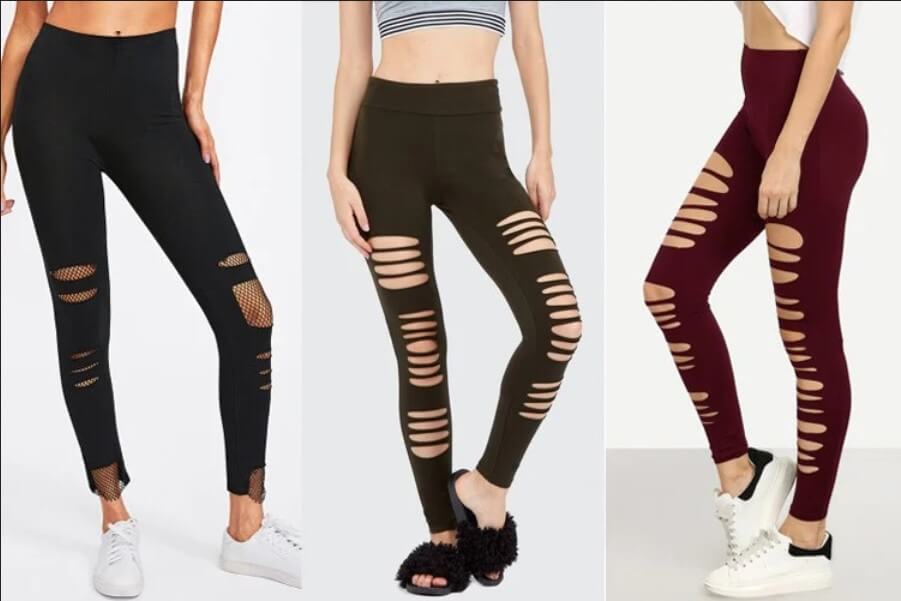 How To Make Ripped Leggings?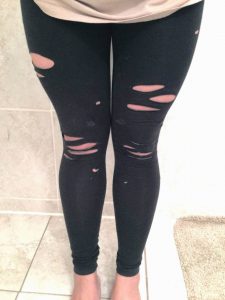 Many women wear a lot of leggings, but sometimes they want something more exciting and trendy. Also, you can do distress leggings with scissors and nothing else. We do the ripping at home, so we don't have to spend extra money buying expensive ones.
We used an old black pair of leggings, but any color you like will do.
But first, prepare an old pair of leggings (preferably black), a pair of scissors, and a piece of chalk. Fabric scissors are better because they cut sharply as ordinary scissors. If you are using light color leggings, use dark color chalk (ex. Deep Red), so you can see the markings.
Here are our recommended DIY step-by-step methods for ripping leggings with style. Please, note that the distressing we like is at the front of the leggings and not at the back. Meaning, that only the front layer of the leggings is distressed!
1. Wear the leggings and visualize
You should wear the leggings to imagine or feel where to make the cuts. It is also more economical to try an old pair (the one you almost forgot in the closet). So, you won't regret it if you make mistakes in cutting.
After determining where to cut, put down the leggings evenly on a clean and flat surface. Match the seams of both legs. Some leggings have seams down inside, while others have double-seam. Ensure that the seams are lined-up.
2. Mark the lines & Do a Test Cut
Many aspiring fashionistas make their cut high on the leg, but if you want more skin, go a little bit higher. If you don't want to show some skin on your upper thigh, better have the cut slightly above the knee.
Using a piece of chalk, mark the spot with a thin line where you want to have the cuts. Chalk marks are easy to erase and see on a stretchable fabric. You can draw two lines, one on top of the other in different spots. If you want intense ripping, draw lines more than two inches away from each other.
The cuts may not be the same on both legs. Use your imagination for a sexier look. You may try trial & error if you don't like your subsequent marks. Erase the chalk lines if you are not pleased with your first attempt and start again. Once you are sure of the lines, make the first cut using fabric scissors.
3. Pinch & Cut &. Do it nicely!
To cut: pinch the centerline of the chalk mark in lifting the top surface of the fabric: Grab this piece of legging with your two fingers (thumb & index fingers). Ensure that you are not holding the front with the backside of one leg. It will cut both holding it this way.
Make a small slit on the pinched fabric in-between your fingers using the scissors' pointed tips. Then, release the pinching and start cutting the cloth with ease. Decide how long the cut should be and how much skin you want to show or the style you want.
4. Do pinching & cutting on the other leg
Once you are satisfied with the results on one leg, pinch & cut the other leg. It could look more satisfying if you make the cut lengths and spots different from one another. You can also have variations on the cuts like the broken-up pattern. In this style, you can do two rips on one of the chalk marks.
You can do whatever patterns you like. Once you see the results of the cuts in both legs, take another glance at the finished product. If you want a more distressing look, make little incisions or holes on the legs randomly using the scissors' tips. The small incisions would add a more distressing look to the leggings.
5. Wear and Enjoy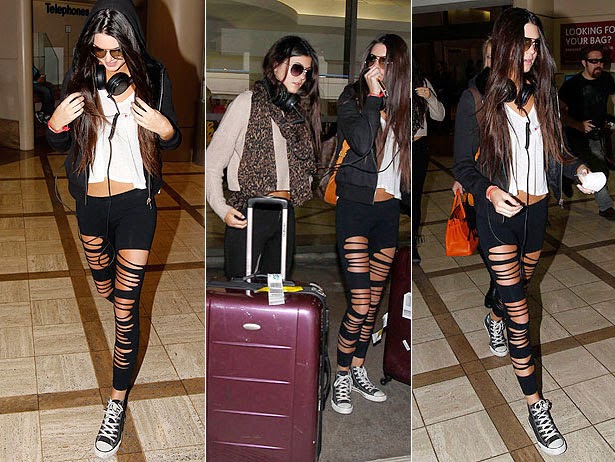 When done with cutting and destroying the leggings turn them inside out and see if the ripping turns great! You can make more cuts if you find it lacking in style. But if it is okay, try to wear the destroyed leggings.
If the patterns turn out not a carbon copy of popular styles, don't freak out! You can always be proud of your originality. Grab your mobile phone and take selfies while wearing the ripped leggings.
Review these selfies when you want more old leggings for ripping. So, you can make adjustments in cut length and spacing once you make another tear-down legging.
So, that's it, girls! Enjoy wearing your inexpensive ripped leggings!
Read More: Best Tummy Control Leggings in 2023
How To Cut Slits In Leggings?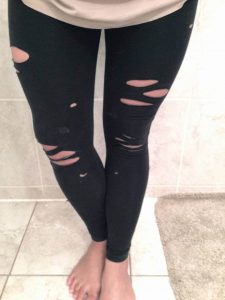 To make the slits in leggings more refined, you can do two cuts: the vertical and the horizontal cuts. If you do not want to pinch the fabric, there is a better way to do the slits. Here is the step-by-step procedure for making those slits:
Step 1
Put down the leggings on a flat surface. You can lay it down on your dining table, but ensure that the surface is dry and clean.
Step 2
Starts with one knee, wherever you want to cut: Look for the part of the legging fabric that corresponds to your knee. Fold the fabric in half with your two hands and flip it on its side. You can have the horizontal cut on this knee (say the right knee). But make sure that you don't cut the backside of the fabric.
Step 3
Grab your scissors and prepare to make the horizontal cut. Once the fold is flat enough, cut the fabric horizontally. You can start a small cut a little over two inches above the knee.
Make four to five slits horizontally with the same length.
Step 4
Next, take the left leg of the legging fabric to do the vertical snips. Look for the knee part of the fabric (like in Step 2). Then, flip it in half vertically as opposed to the right knee fabric. Make sure that you will be going to cut just the front layer of the fabric.
Step 5
Once you have flipped the fabric (left knee) in half, make about three to four vertical slits using the scissors. After making the snips, flip it over and see the results.
Here is a quick video showing how to do the fringy slits (horizontal & vertical) on your leggings:
What Can You Make Out Of Ripped Leggings?
Once you are done wearing worn-out ripped leggings, there are many possibilities that you can do than thrashing them. Leggings are stretchy, but no matter how stretchable they are, they tend to wear out in time. But you can re-purpose old and worn-out leggings rather than throwing them away.
Here are four innovative ways on what you can do with old leggings:
Make fashionable headbands.
Make them as trendy high-knee socks.
Make an elegant bandeau top.
Make an attractive Bohemian necklace.
Conclusion
Slashed/ripped/distressed leggings, no matter how you call them: you can do distressing leggings with just scissors and chalk and nothing else. That is the easiest and cheapest way on how ripped leggings DIY will be more effective.
Moreover, the guide we have shown you takes just a few minutes of your time. But choose those leggings with thicker fabric to keep them more durable if you plan to wear them longer. You can also add more rips or slits to the leggings to make them as destroyed as what Kendal Jenner wears.
Anything you do with your leggings reflects your lifestyle. Appreciate the joy and privileged of having an outfit with a variety of uses.
One more tip: we recommend washing your ripped leggings manually and carefully if you want them to last long.